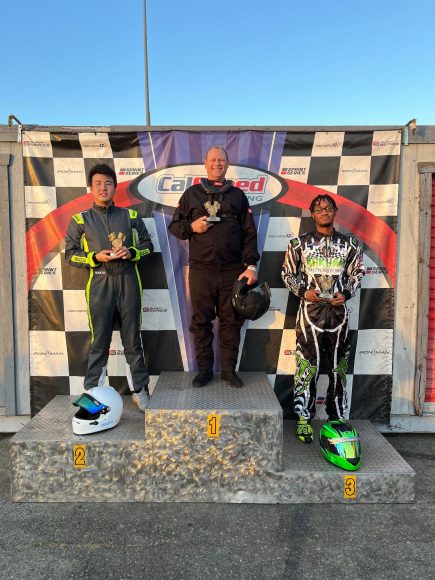 The third installment of the new Grand Prix Series takes to the track tonight at 5pm, with the fastest of the CalSpeed layouts on offer; Nuotivo. The track will look mostly familiar to the the return 32 drivers from last month, as only a single complex is swapped out from round #2's track, Sportivo. Speaking of last month, Nick Rajewski made it two podiums in a row by scoring his first career win, while Tiange Li also brought home his second piece of hardware with another 2nd place. New to the box was Rodney Bryant Jr, backing up his pole position in qualifying with a third in the Main.
Of the 32 returning drivers that have already cut laps in the GP Series, 18 of the top 25 in points are returning, and we are now starting to get a pretty clear look at who some of the upcoming talent is here at CalSpeed. Todays preview will not only look at top 5 in the standings after two events, but also take a closer look at the track for round #3, as well as a full entry list for tonights event…
The Track…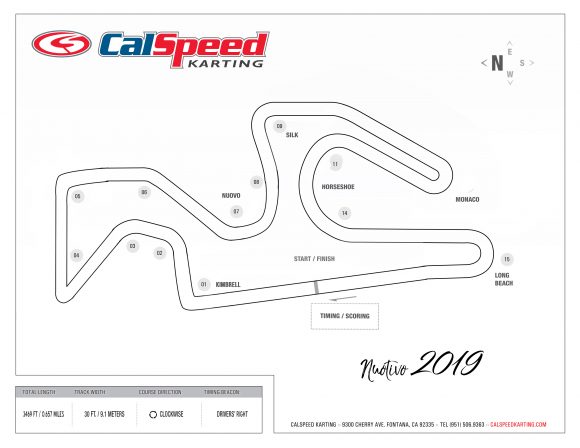 · Turns – 13
· Overall length – .657 miles
· Front Straight – 550 feet
· Back Straight (Nuovo to Monaco) – 630 feet
· Braking Zones – Kimbrell, Turn 4, Monaco, Long Beach
· Primary Passing Zones – Kimbrell (Draft) Turn 4, Monaco, Long Beach
· Track Record- 6.896, Sam Hunt, Super Series Round #1 2021
The Drivers…
Qualy Group 1      
Nick Rajewski
Tiange Li
Rodney Bryant Jr
Josef Nalezny
Yingkai Zhao
Brandon Boone
Ryan Ray
Revin Easley
Matthew Pinto
David Ballantine
Matthew Slama
Fabricio Curtis
Jayden Martinez
Nathan Olin
Marcus Guerrero
Cuauhtemoc Arana Bravo
Eric Dulaney
Ethan Broitman
Aaron Geoulla
Brandon Schmidt
Andrew Mekhail
Ryan Detweiler
Nolan Platefield
Allen Person
Daniel Parisi
Qualy Group 2
Charlie Ibarra
Zachary Abrahim
Craig Vasquez
Shady Ahmad
Adam Ahmad
Korey Givens
JD Lebrilla
Brian Palencia
Chris Knutsen
Cole Duncan
Conor King-Goldman
Evan Garner
Gabriel Banuelos
George Reyes
Jim Givens
John Michael Dunnigan
Jorge Esquivel
Robert Easley
Scott Macadam
Summer Givens
Antonio Rodriguez
Da Hang
Erin Pae
Brian Escobar
Madigan Escobar
Championship Top 5 –
#1 Nick Rajewski – Backing up a third at the opener, Nick Rajewski's win at round #2 sees him bump up to the overall point lead, and is fresh off his second best finish of the year over in the Sprint Series. That should bode well for him with it being the same track, but there are several others entered that have also been getting extra seat time of late, and will pose a challenge.
#2 Steven Dekeyser – However round #1 winner Steven Dekeyser will not be one of them, as he will be forced to miss this weekend due to a prior commitment. This means he will be resting on his 5th place finish last month, and will be dropping this round from his tally. Question will be, how will he fair upon his return at the finale?
#3 Tiange Li – The best way to give yourself the best chance to do well in the single-race format that is the GP Series is to qualify well, and Tiange Li has been carrying the torch there. A pole position at the opener and a P2 in qualy last month sees him with a pair of 2nds to his name in the races, and actually just picked up a B-main win over in the Sprint series last weekend…
#4 Rodney Bryant – Son of a former champ, Rodney Bryant Jr backed up what many thought he could do coming into this new series, bouncing back at the opener for a solid 7th, and then scoring a podium last month after top time in qualy. He is very much in the title conversation, and one has to wonder if he has been getting any pointers from dear ole dad…
#5 Josef Nalezny – Like Bryant, last month was a bit of a rebound for Josef Nalezy, who did not have the series opening race he wanted at all. His 4th last month showed what he could do however, and will be looking to show it was no fluke tonight. He's had success in the Machismo 12 Hour endurance race before, and is now showing he can make things happen in a sprint event as well…
After the first two events we are starting to see who the players are, not only the top 5 above, but there are a few further back that have also showed steady improvement. Will round #3 see more of the same usual suspects from rounds #1 and #2, or could we see a breakout performance from someone new?
See you all tonight at 5pm!