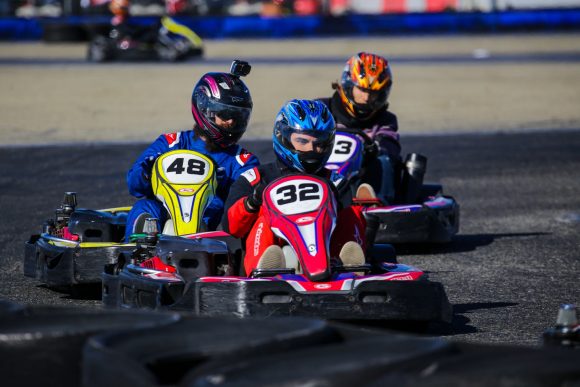 Welcome to the inaugural CalSpeed Grand Prix Series! The excitement around this new championship at the Fontana, CA facility is through the roof, as nearly 50 drivers get ready to take on the Tecnico circuit for the first of four rounds this summer. Geared towards new drivers, the entry list is made up of exactly that; from drivers making their first start, to drivers looking to improve over their current performances in our Sprint Series, it is a great mix of newcomers gracing the entry list for round #1.
In todays preview we'll take a look at the track they will be running on, highlighting some Track facts as well as an on board vid, break down the format for the event, as well as share the complete entry list and qualifying group order…
The Track…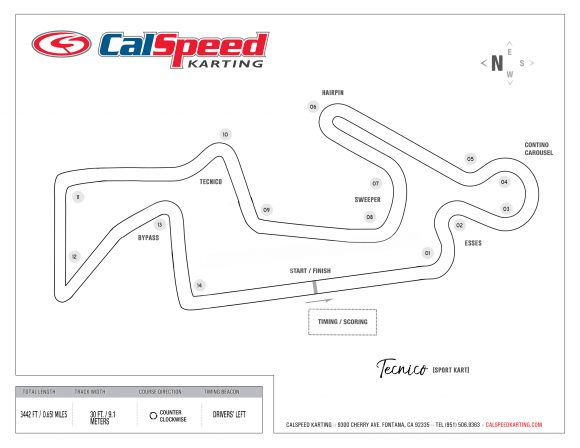 ·      Turns – 15
· Overall length – .651 miles
· Front Straight – 475 feet
· Back Straight (Contino to Hairpin) – 245 feet
· Braking Zones – Esses, Hairpin, Turn 4, Bypass
· Primary Passing Zones – Esses, Hairpin, Turn 4, Bypass
·      Track Record- 60.912, Jose da Silva, IronMan Series Round #5 2021
The Format…
Gates open at 4:30pm at CalSpeed, with the optional practice session happening shortly after 5pm; with this being open to brand new drivers, a full introduction of the karts, as well as the track will precede a complete drivers meeting, which will go over the basics and the rules of the event. After the Optional practice is concluded,the 8 minute qualifying session will commence, with all drivers broken up into 2 groups. Times from those sessions will split everyone up into an A Main and a B-Main, with the winner of the B-Main moving on to start last in the A-Main. Both Mains will be 10 laps in length, and the top three will step on the podium and claim the hardware for round #1!
As it is with all CalSpeed events, all drivers will be ballasted up to a 200 lbs minimum driver weight, with the top few drivers getting weighed out at the end. For some this could be the very first time ballast has been introduced, but this will certainly make things all the more equal amongst all of these rookie drivers. Most of the other general rules seen at either the Sprint Series or the Super series will still apply, however the kart draws will be done in advance to help keep things rolling, and make sure we finish up by 7pm!
The Drivers…
Qualy Group 1
Kartik Gopalakrishnan
Nick Rajewski
Revin Easley
Minyan Jia
Tiange Li
Yingkai Zhao
Yanchu Zhou
Chris Pineda
Ollin Palafox
Miriam Aguilera
Cosmo Kaminski
Keagan Kaminski
Eric Dulaney
Jacob Caldera
Andrew Mekhail
Cuauhtemoc Arana Bravo
Jayden Martinez
Matthew Slama
Cody Greeley
Fabricio Curtis
Shady Ahmad
Adam Ahmad
Scott Randell
Daniel Parisi
Renesh Kumaresan
   Qualy Group 2
Rodney Bryant Jr
Kevin Marshall
Nathan Olin
Carl Lopez
Josef Nalezny
Matthew Pinto
Charlie Ibarra
Steven Nava
Marcus Guerrero
Alex Baron
Ryan Ray
Ethan Broitman
Paul Rinnander
Andrew Altamirano
David Stevens
Steven Dekeyser
Vatsal Bhatt
George Ashby
Allen Person
Mike Buongiorno
Brandon Boone
Ryan Detweiler
Jon Bahod
This is for sure going to be a fun and exciting event, with so many new drivers coming in and getting their first taste of racing wheel to wheel, it is anyone's guess who will come out on top! See you all tomorrow at 5pm!