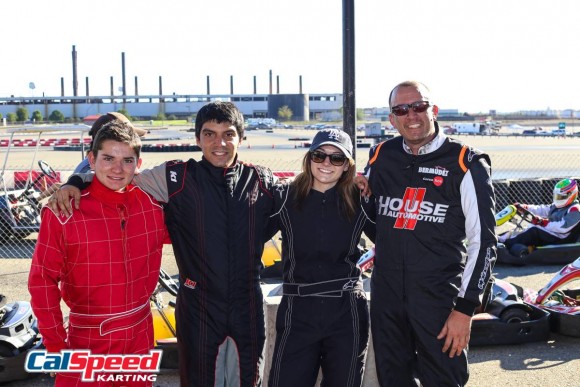 Pleasant weather? Check. Season finale? Check. The top drivers with a shot at the championship? Check.
October's season finale to the 2016 Sprint Series was sure to provide one of the most exciting races this year would see. Tied for the top was Alexander Bermudez and Ashley Arnott; Luis Calderon followed closely and boasted bragging rights as the only two-time winner during 2016's rounds; Caden Thure saw multiple podiums all year, sitting in 4th; and Thomas Blackledge in 5th made sure his drive and ability to move forward was known by all. The moment they walked into CalSpeed on Saturday morning, each driver already knew that every position would mean everything for the championship.
Qualifying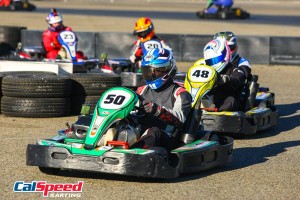 Qualifying saw Thomas Blackledge leading for most of the way and it seemed that his time would pretty much remain unchallenged. What was also interesting was that both points leaders Alexander Bermudez and Ashley Arnott were no where in sight for the top 5. If quali were to not go so well, the heats would be quite the battlefield for the championship for these two. With only a few minutes remaining, the best times eventually shuffled and Don Diego Veloria would claim his first overall pole of the season with a 1:06.535.
Qualifying Top 6 Results

| | | |
| --- | --- | --- |
| 1) | Don Diego Veloria | 1:06.535 |
| 2) | Luis Calderon | 1:06.690 |
| 3) | Thomas Blackledge | 1:06.797 |
| 4) | Randy McKee | 1:06.937 |
| 5) | Alexander Bermudez | 1:06.948 |
| 6) | Ashley Arnott | 1:07.127 |
Heat 1A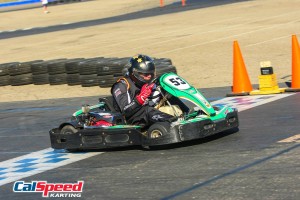 The first heat of the day already began with championship drivers bearing their teeth at a win. Veloria on pole had Blackledge, Bermudez, and Diego Alvarado in tow– surely the pressure was something to contend with. About 3 laps in, Bermudez grabbed the inside approaching Turn 4 to make a clean pass against Veloria for the top position. Both have been seen to work well together during practices at CalSpeed and through such teamwork, were beginning to gap third and fourth by eventually an entire second. As seen in the photo, clinging to the top position, Bermudez ducked for that little bit of aerodynamic assurance at every straightaway possible. In the meantime, Yuki Tanaka forced through 4 positions to reach 5th from his start at 9th. With only a few corners remaining, Veloria tried to overtake Bermudez in the bypass but couldn't make it stick so the win would ultimately go to the latter.
Heat 1A – Top 5 Results

| | |
| --- | --- |
| 1) | Alexander Bermudez |
| 2) | Don Diego Veloria |
| 3) | Thomas Blackledge |
| 4) | Diego Alvarado |
| 5) | Yuki Tanaka |
Heat 1B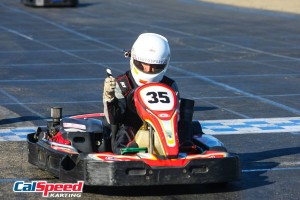 Two-time winner Calderon set off at a blistering pace at the green flag with Randy McKee and Arnott right behind. Quite a large gap separated P3 from Caden Thure in P4 who was getting no help as he raced alone for most of the heat. A bit of impatience began to brew behind McKee as Calderon cruised away to a healthy lead; it wasn't until the Grande hairpin where Arnott would get by McKee, allowing Thure to catch up as well. Going into Short Beach, Thure went two wide and managed to get around Arnott. The Carousel became Arnott's attack point of choice for a few laps but no headway was made. With lap traffic looming ahead, it wasn't sure as to how this would go down. At white flag, a bit of a slip up by Thure occurred at Turn 4, putting Arnott side by side with him all the way to the checkered flag. She'd successfully take back 2nd by a slim 4/100ths.
Heat 1B – Top 5 Results

| | |
| --- | --- |
| 1) | Luis Calderon |
| 2) | Ashley Arnott |
| 3) | Caden Thure |
| 4) | Randy McKee |
| 5) | Eric Monteith |
B-Main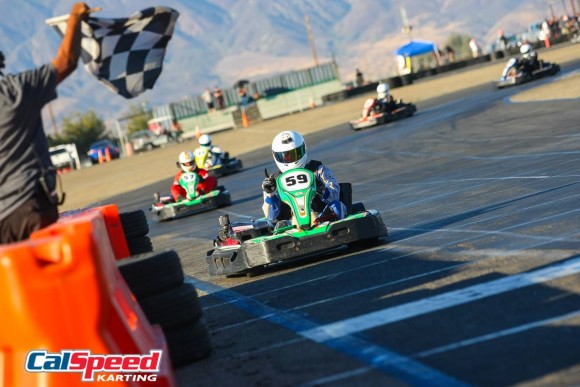 2016's final B-Main saw Michael Eguina on pole for his first time. After a rough start, John Rice in 3rd would jump up for the lead and fight with Samuel Hunt. The lead changes throughout the B-Main were numerous and both Hunt and Rice exchanged it several times. It wouldn't be until Vladimir Orlov all the way from his 9th position start, steamed through to 1st just around the half way mark. Rice rested comfortably behind Orlov as the battle for 3rd saw the most action. With the white flag flying, Steve Jasinski, one of CalSpeed's most seasoned drivers, took his fight up with Ivan Martinez and Peter Liwanag. Jasinski ultimately took 3rd place, a vast 8 positions ahead of his original starting position.
B-Main – Top 5 Results

| | |
| --- | --- |
| 1) | Vladimir Orlov |
| 2) | John Rice |
| 3) | Steve Jasinski |
| 4) | Ivan Martinez |
| 5) | Peter Liwanag |
A-Main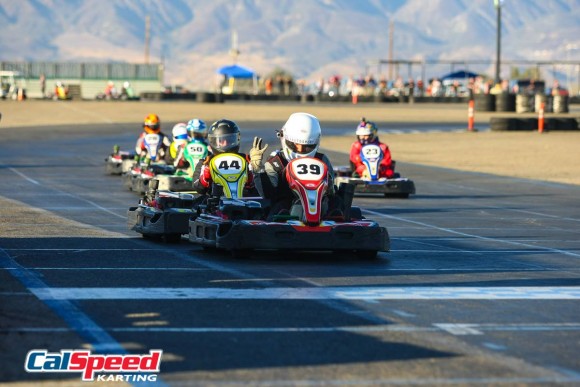 This was it. The A-Main. The battle for the championship. Based on the heat results, it would be Calderon on pole, Bermudez, Veloria, Arnott, and Blackledge respectively. At this point in the game, pretty much all of these drivers had a shot at the season hardware– some with tall orders and some with a simple "I must finish ahead of this competitor." At the green flag, the race started slow and steady. These drivers knew very well what was riding on this final race. This writer didn't expect Veloria or Bermudez to make any drastic moves during this final race as both usually think on the bigger picture side. Early on, an attempt by Arnott in the Grande hairpin didn't go as planned and eventually it manifested a gap between 3rd and P1/P2. In watching this race, it was clear that Blackledge wasn't going to have the "play it safe" game in mind and would eventually push through Arnott at Short Beach in lap 4. Calderon and Bermudez in P1/P2 gapped slightly; an unsettling calm took over for a spell as few position changes occurred for this top pack during the middle of the race. Then it happened: the white flag came up and all bets were off, especially for young Blackledge. With Calderon and Bermudez steady at the front, a last minute move in the Bypass enabled Blackledge a passage through to 3rd ahead of both Veloria and Arnott while the latter simultaneously drove a little wide, allowing Thure to just barely sneak by. Blackledge's very immense efforts throughout the day moved him 1 position ahead in the points standings. Calderon landed himself a perfect day with a main and heat win and it also marked his third time on the top step for the entire 2016 season.
A-Main – Top 10 Results

| | |
| --- | --- |
| 1) | Luis Calderon |
| 2) | Alexander Bermudez |
| 3) | Thomas Blackledge |
| 4) | Don Diego Alvarado |
| 5) | Caden Thure |
| 6) | Ashley Arnott |
| 7) | Randy McKee |
| 8) | Diego Alvarado |
| 9) | Duane Lawson |
| 10) | Seth Willits |
This final race of the season solidified Alexander Bermudez as the 2016 Sprint Series Champion and Summer Subchamp winner, what with his eye-on-the-prize frame of mind. We took a moment to catch up with Mr. Bermudez himself and asked a few short questions.
Sarah Bantay: Going into this race, your demeanor seemed quite a bit more serious than usual. Now that the finale is over, what do you think about your performance as it changed throughout the entire season? When the season unfolded, how closely did it align with your initial goals and plans?
Alexander Bermudez: Upon reflection of my 2015 POC season, my goal for 2016 was to further hone my race craft and continue to race with the POC. But as is so often the case in racing, nothing ever goes as planned and by the second race of 2016 it had become clear that the team that had helped me win the BSR Championship in 2015 was no longer able to support me through 2016. It was at that point that I committed to the full season of Karting with CalSpeed.
My goal to focus on improving as a driver would remain the same regardless of if I drove a car or kart. But as it turned out, racing in both the Sprint Series and Super Series would prove to be the perfect arena for my development as a driver! As my race car went up for sale, my ability to drive a kart steadily improved.
As the season marched into the winter months my driving seemed to improved significantly as did my confidence. I feel that the final race was a culmination of everything I had learned during the year. And winning the Sprint Series Championship is further vindication of that improvement.
SB: This is essentially your Rookie year with CalSpeed. What do you credit the most for getting you through this rather intense year (other than your Missus letting you come to the race track of course…)?
AB: It is no secret that I have been working closely with both Mike Smith and Logan Calvin in order to further hone my race craft. None of this would have happened without their relentless dedication to my cause! With the amount of times I have put both these guys in the wall, it's amazing they even speak to me let alone continue to coach me!
SB: What's next for Alexander Bermudez?
AB: Next year I will be returning to cars, this time Spec Racer Ford with the SCCA. I am really excited about this transition because of how much cross over there is between Sport Karting and Spec Racer Ford racing, both in terms of the dynamics of the car as well as the nature of the racing, I am confident that everything I have learned this year will translate over to SRF. With that said I intend to compete in every Super Series and Iron Man event in 2017 that does not conflict with the SCCA schedule. It has truly been an amazing year with CalSpeed and 2017 promises to be even better!
SB: Awesome! Thank you for your time Alex and congratulations on the win!
AB: Thanks Sarah, it's truly been a year to remember!
Summer Championship Overall Standings

| | | |
| --- | --- | --- |
| 1) | Alexander Bermudez | 870 |
| 2) | Luis Calderon | 857 |
| 3) | Thomas Blackledge | 835 |
| 4) | Ashley Arnott | 827 |
| 5) | Duane Lawson | 805 |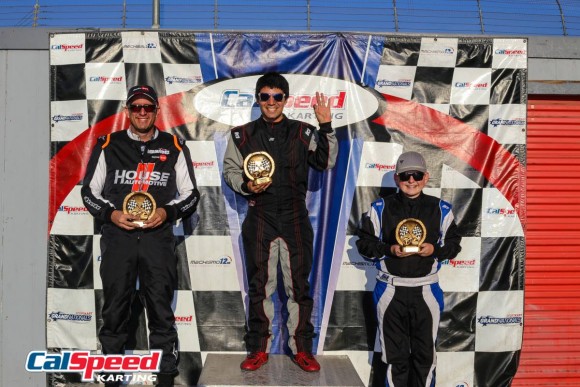 Overall Championship Standings
| | | | |
| --- | --- | --- | --- |
| 1) | Alexander Bermudez | 1935 | (238) |
| 2) | Ashley Arnott | 1910 | (0) |
| 3) | Luis Calderon | 1906 | (200) |
| 4) | Caden Thure | 1868 | (229) |
| 5) | Thomas Blackledge | 1803 | (205) |
| 6) | Duane Lawson | 1774 | (0) |
| 7) | Diego Alvarado | 1745 | (179) |
| 8) | Steve Jasinski | 1730 | (136) |
| 9) | Kelly Bastian | 1619 | (0) |
| 10) | Don Diego Veloria | 1576 | (0) |