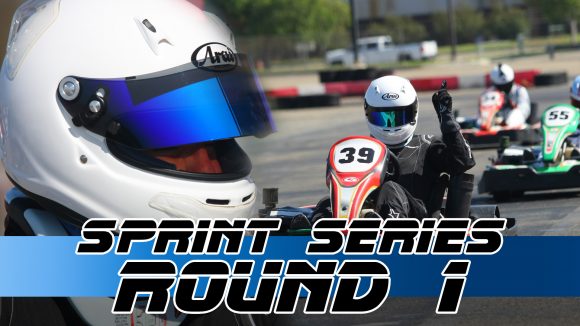 With perfect weather blessing the track this past Saturday, the 2018 Sprint Series Opener took to an awesome start. New names flooded the roster but the upcoming drivers for the season were yet to be revealed. The question now remains: who will be the torch bearers for the 2018 year? Will it be clear who will be the championship contenders for this season? The A-Main would prove to be a very intriguing one…
Practice/Quali
The first practice of the day started with Caden Thure, second place in last year's championship, and Diego Alvarado leading the way in group 1. Although typically the third and final run group plays host to the fastest qualifying times in most races, this was certainly not going to be the case as Alvarado would be sitting comfy while the rest of the field just couldn't quite muster the speed to beat him out of the top.
Quali Results

| | | |
| --- | --- | --- |
| 1) | Diego Alvarado | 1:03.013 |
| 2) | Randy McKee | 1:03.120 |
| 3) | Caden Thure [2R] | 1:03.129 |
| 4) | Lucas Dziemidok [2R] | 1:03.267 |
| 5) | Luca Bortone | 1:03.301 |
---
Heat 1A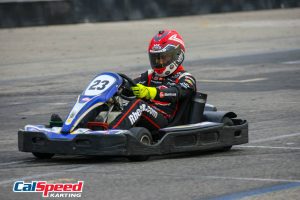 In heat 1A, pole served as a springboard to a healthy lead for Alvarado at the green. Lucas Dziemidok, 2R driver and runner-up to the 2017 Rookie Championship, gave chase immediately and would begin dicing it up with Alvarado for the lead. A tight group of 6 soon developed out in the front, the latter still holding fast to the helm. Behind him, drivers shuffled continuously, casting doubt on just who might come through the checkered. In the end, it would be Alvarado with the win, Frank Hsu, and Dziemidok wrapping up the first heat of the season.
Heat 1A Results

| | |
| --- | --- |
| 1) | Diego Alvarado |
| 2) | Frank Hsu |
| 3) | Lucas Dziemidok [2R] |
| 4) | Evan Karp |
| 5) | Tony Chen |
---
Heat 1B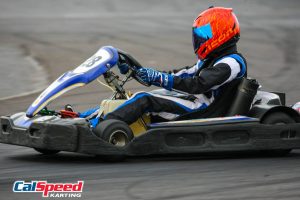 Randy McKee carried a lot of momentum through 2017 and took it right with him into 2018. At the green flag, he earned an immediate lead while a battle for P2 ensued between Spencer Russell and Daniel Eaton. Tangling in the Long Beach corner, the two enabled a fair chunk of the field to bunch up right behind. Luckily for Russell, he was able to escape the madness and push away to latch onto P1's tail. With the white flag up, he wrestled the lead away from McKee, taking the win for heat 1B.
Heat 1B Results

| | |
| --- | --- |
| 1) | Spencer Russell |
| 2) | Randy McKee |
| 3) | Daniel Eaton |
| 4) | Eric Monteith |
| 5) | Luca Bortone |
---
Heat 1C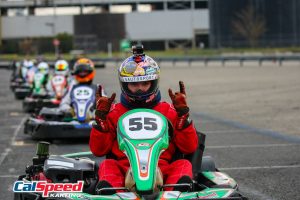 Heat 1C wasn't going to be an easy one as despite Thure's start up front, he would dip backwards initially towards the onslaught of drivers raging behind him. At the Contino Carousel, James Lieser grabbed the lead while Thure recovered to second position. Meanwhile, Ivan Martinez already made a miraculous move from a start in 9th and was currently sitting in 4th. Thure regained the lead finally but as is the usual, action in Long Beach begged a massive shuffle amongst the front pack. It would be a black and checkered finish, but as the dust settled, it would be Thure with the win followed by Lieser and Martinez.
Heat 1C Results

| | |
| --- | --- |
| 1) | Caden Thure [2R] |
| 2) | James Lieser |
| 3) | Ivan Martinez |
| 4) | Samuel Hunt |
| 5) | Nathan Isaacson |
---
C-Main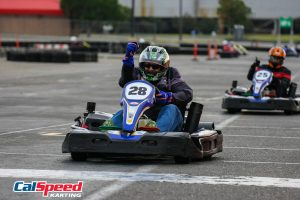 Doug Yauney, a very regular face at all CalSpeed events as both driver and father, stood at the sharp end of the C-Main. Having won several of these in the past, Yauney's quick pace and gapping of the field were no surprise. Several newcomers rotated their names into the second spot throughout the race: Gable Schoenfelder, Matthew McCoy, Darwin Felix, and a few more. It would be Felix that would keep steady hold for the most important part of the race and he would grab second followed by Theodore Park.
C-Main Results

| | |
| --- | --- |
| 1) | Doug Yauney |
| 2) | Darwin Felix |
| 3) | Theodore Park |
| 4) | Benjamin Potter |
| 5) | Dino Dila |
---
B-Main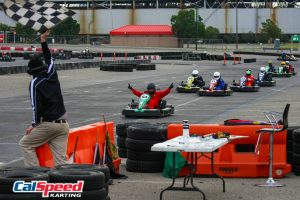 Early on in the B-Main, off-pole driver Jacob Sainz took to attacking P1 in the Carousel but was countered quickly as they went through Horseshoe. The entire field accordioned into the front pack along with them. Sainz, having drag raced into Long Beach and through the straightaway, came out for the lead. Meanwhile, Sprint regulars Edison Noboa and Jeff Latimer made their own inroads towards the lead. With only a few laps remaining, one driver standing in their way went wide through turn 4, thus opening a huge door to try and catch up to the leader. B-Main wrapped up with Sainz taking a win, followed by Noboa and Latimer.
B-Main Results

| | |
| --- | --- |
| 1) | Jacob Sainz |
| 2) | Edison Noboa |
| 3) | Jeff Latimer |
| 4) | Filip Craciun |
| 5) | Thomas Haake |
---
A-Main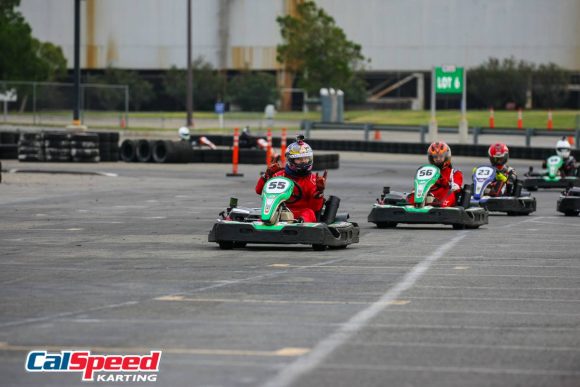 And then we finally arrived at the final main of Round 1. The A-Main saw Diego Alvarado reign dominant from the get-go, leaving the rest behind. Thure, starting off-pole, is known however for his ability to wrestle himself back into a strong position. He teamed up with Russell right behind to try and catch up to the leader. Dziemidok meanwhile started from 7th and would have to really hustle if he wanted to be in a position to get himself on the podium. Going into Long Beach, Thure had the advantage, pulling Russell along with him to get ahead of Alvarado. Russell didn't quite pull through but the three of them now sat tightly packed together. Making good on his previous attempt, with 6 laps to go, Russell slotted himself side by side with Alvarado as they drove through Horseshoe, successfully jumping into P2. This front pack wouldn't stay the same however. Steady as an oncoming storm, Dziemidok lay in wait. At the white flag, a very crucial mistake was made up in the front at Turn 4, enabling the hornet's nest to engulf the front pack. Thure made out with the lead, and it would be Dziemidok emerging for the second spot and Alvarado in third to wrap up an eye-opening A-Main for the first round of the Sprint Series.
A-Main Top 10 Results

| | |
| --- | --- |
| 1) | Caden Thure [2R] |
| 2) | Lucas Dziemidok [2R] |
| 3) | Diego Alvarado |
| 4) | Spencer Russell |
| 5) | Ivan Martinez |
| 6) | Frank Hsu |
| 7) | Evan Karp |
| 8) | Randy McKee |
| 9) | Luca Bortone |
| 10) | Daniel Eaton |
---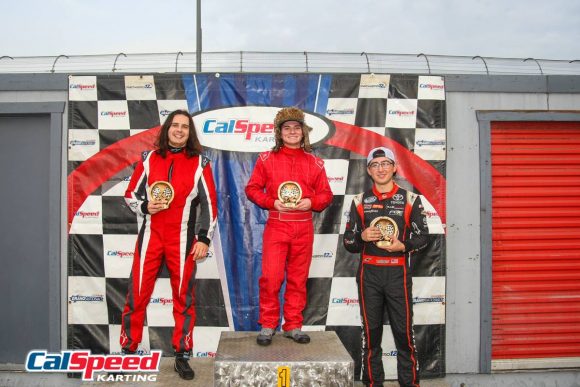 Sprint 2018 Current Standings
| | | |
| --- | --- | --- |
| 1) | Caden Thure [2R] | 300 |
| 2) | Diego Alvarado | 290 |
| 3) | Lucas Dziemidok [2R] | 285 |
| 4) | Spencer Russell | 285 |
| 5) | Frank Hsu | 270 |
| 6) | Ivan Martinez | 270 |
| 7) | Randy McKee | 264 |
| 8) | Evan Karp | 257 |
| 9) | Daniel Eaton | 253 |
| 10) | James Lieser | 249 |