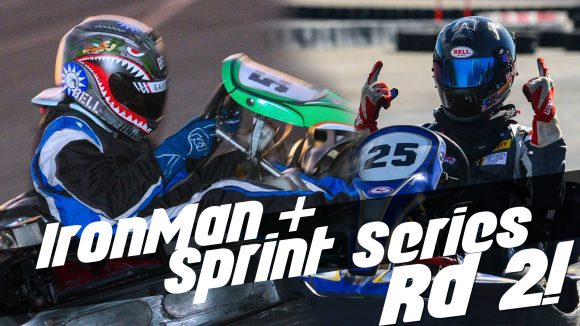 Entering Saturday, a looming rainstorm brooded over CalSpeed Karting in Fontana, CA but this was absolutely not going to get in the way of any racing this time around! With clear blue skies suddenly opening the way to the start of the Sprint Series just around noon, the opportunities were high for all.
Practice/Qualifying
As practice/quali moved into its third group, we'd begin to see Tony Wika and Randy McKee leading the charge for pole for a good half of the session. With only a couple minutes remaining, Caden Thure would pop up to the top together with teammate and last round's winner, Thomas Blackledge. Eventually he moved ahead for pole and Dmitry Korotkov would sneak into 3rd on his last lap.
Quali Results

| | | |
| --- | --- | --- |
| 1) | Thomas Blackledge | 59.388 |
| 2) | Caden Thure | 59.498 |
| 3) | Dmitry Korotkov | 59.560 |
| 4) | Tony Wika | 59.591 |
| 5) | Randy McKee | 59.607 |
---
Heat 1A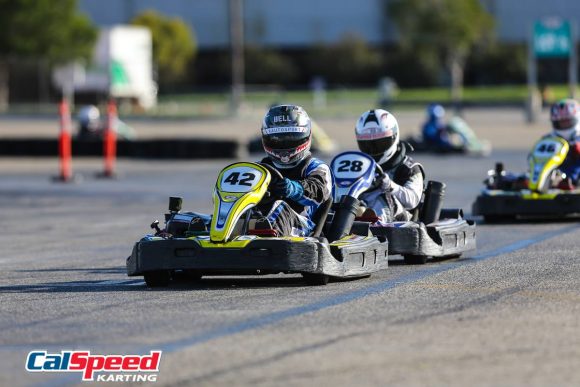 Heat 1A saw Blackledge taking off to an early lead. Dennis Kimbrell starting from 3rd was predicted to latch on for P2 as the only 2R driver signed up for this round; which subsequently he took action immediately and the two broke away. The battle for 3rd came between Wika and Don Diego Veloria but a large pack brewed behind and alongside them vying for any move forward. Taking advantage of all the infighting, Veloria eased out and brought himself to a 2.5 second lead over 4th. With the white flag in the air, Kimbrell would not rest as he would make several attempts on Blackledge, the two exchanging the lead several times in that final lap. At Long Beach, it still wasn't sure who'd make it to the checkered first but ultimately Blackledge successfully kept the defense on Kimbrell for the win.
Heat 1A Results

| | |
| --- | --- |
| 1) | Thomas Blackledge |
| 2) | Dennis Kimbrell [2R] |
| 3) | Don Diego Veloria |
| 4) | Tom Zevin |
| 5) | Tony Wika |
---
Heat 1B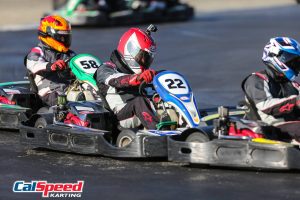 Though the top 3 of McKee, Thure, and Diego Alvarado had a better start than the rest of the field, a tussle with Jeff Latimer and Sheng Wu put Alvarado back in 6th. The unfolding race saw numerous exchanges in between and it was anyone's guess as to who'd come out on top this time around. With only 3 laps to go, Alvarado earned himself the advantage in Long Beach with a move to P1. He would be able to hold this as more battles raged on behind him; McKee and Wu emerged victorious to round out the top 3.
Heat 1B Results

| | |
| --- | --- |
| 1) | Diego Alvarado |
| 2) | Randy McKee |
| 3) | Sheng Wu |
| 4) | Jeff Latimer |
| 5) | Caden Thure |
---
Heat 1C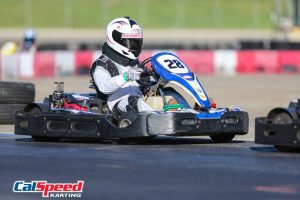 Korotkov, fresh off the day's earlier IronMan, led the charge with Andrew Brown and Seth Willits in tow. Steady driving moved them ahead of the field but Willits' quicker times enabled him to grab the first position right away. A mixup in Monaco suddenly saw Korotkov in the lead with the Brown and Willits battle transformed into a tight group of 5 drivers. As the white flag came out, Brown is seen taking a quick glance behind him on the straightaway as he focused steadily on Korotkov in the lead. He went for the inside line at Long Beach but Korotkov held it well for the win.
Heat 1C Results

| | |
| --- | --- |
| 1) | Dmitry Korotkov |
| 2) | Andrew Brown |
| 3) | Seth Willits |
| 4) | Dax Veloria |
| 5) | Tyler Redman |
---
C-Main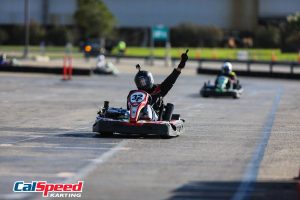 Nathaniel Small and George Puckhaber took the reigns at the start of the C-Main. Bunched up in Monaco was the group battling for 3rd, where Michael Martin managed to take the advantage and set sights on Puckhaber. Benjamin Potter followed suit in P4 while Small never looked back, pushing forward and sailing away uncontested. Once again, the white flag generated a final piece of pressure on the C-Main, but Martin and Potter remained steady despite a skirmish in Monaco. Small's victory was in clear sight and he'd take the win and first transfer of the day.
C-Main Results

| | |
| --- | --- |
| 1) | Nathaniel Small |
| 2) | Michael Martin |
| 3) | Benjamin Potter |
| 4) | George Puckhaber |
| 5) | Jesse Lerman |
---
B-Main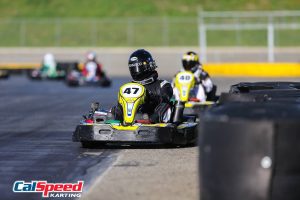 Calvin Ku sat on pole to lead the first lap of the B-Main along with Eric Monteith and seasoned Sport Karter Steve Frame. As the top 2 broke away, Ku went purple and through his quick pace, simply wasn't expected to lose his lead. A large gap in between each of the top 3 meant there would be little to no action in the front; P4 appeared too far back to catch up especially with the infighting lingering around. The B-Main would wrap up neatly as Ku, Monteith, and Frame would finish exactly as they started.
| | |
| --- | --- |
| 1) | Calvin Ku |
| 2) | Eric Monteith |
| 3) | Steve Frame |
| 4) | Dai Feng |
| 5) | Ron Ng |
---
A-Main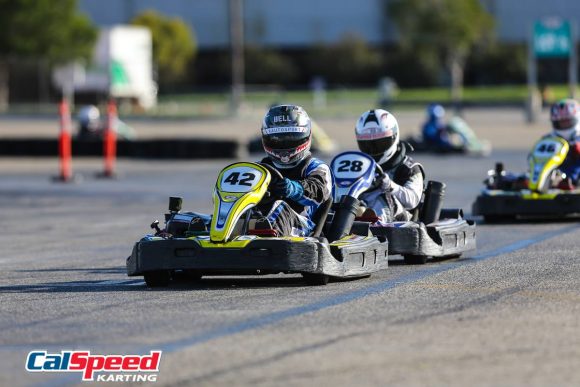 On pole: TJ Blackledge. Off-pole: Korotkov. The former had already won the previous Sprint round but the latter had yet to see the podium. The possibility for Korotkov was getting off to a good start here as he latched onto Blackledge's bumper. Kimbrell, Alvarado, and McKee battled for the final step, all constantly staying tight and taking peeks to try and sneak a pass. As expected, their clashing led to the battle for 3rd becoming 6 karts deep. With Blackledge suddenly finding himself alone in front, it seemed that a mistake in Monaco was about to cost Korotkov his step on the podium. Multiple drivers vied for his P2 position as a 2-wide group exited Long Beach and stayed side-by-side all through Bus Stop and Turn 4. The top 3 stretched out and from the madness came Korotkov in P2 keeping the rest at bay, laying down his best results to date, and Andrew Brown successfully escaping as well for a P3 finish behind Blackledge's 2-for-2 win in the season.
A-Main Top 10 Results

| | |
| --- | --- |
| 1) | Thomas Blackledge |
| 2) | Dmitry Korotkov |
| 3) | Andrew Brown |
| 4) | Dennis Kimbrell [2R] |
| 5) | Don Diego Veloria |
| 6) | Diego Alvarado |
| 7) | Randy McKee |
| 8) | Seth Wilits |
| 9) | Tom Zevin |
| 10) | Caden Thure |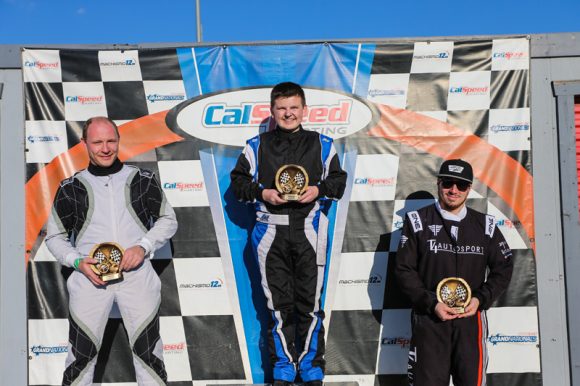 Sprint 2017 Current Standings (With Drop)
| | | |
| --- | --- | --- |
| 1) | Thomas Blackledge | 300 |
| 2) | Caden Thure | 295 |
| 3) | Dmitry Korotkov | 295 |
| 4) | Andrew Brown | 290 |
| 5) | Dennis Kimbrell [2R] | 280 |
| 6) | Diego Alvarado | 275 |
| 7) | Don Diego Veloria | 270 |
| 8) | Cale Engelage | 267 |
| 9) | Randy McKee | 267 |
| 10) | Vladimir Orlov | 264 |