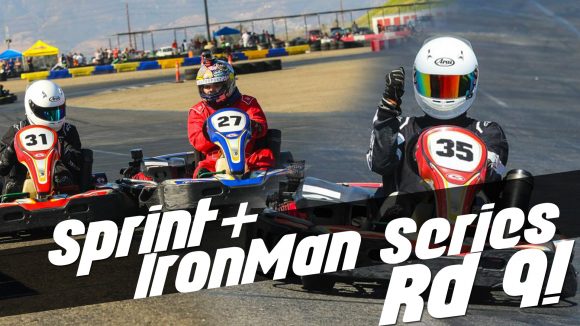 Ah race day Saturday. The penultimate race of the season, Sprint Series Round 9 set the stage for the battle for the last two steps of the podium. Thomas Blackledge's stellar season placed him securely on top as of last round but a couple of drivers still must keep nipping at each other's heels before all is said and done. The Round 9 podium would turn out to look a tad familiar…
Practice/Quali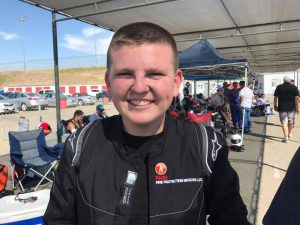 Already having claimed the 2017 championship early last month, Thomas Blackledge stood on pole right away. For a good chunk of the final practice/quali session, he was the only driver in the 1:07s range. Michael Floerchinger came back strong, hovering near only about 2/10ths despite a summer-long hiatus from sport karting. Over the course of the session, several drivers came close to Blackledge but not for one moment was he forced to give up the lead to any other driver. Podium contender Caden Thure managed to become off-pole moments before the checkered.
Quali Results

| | | |
| --- | --- | --- |
| 1) | Thomas Blackledge | 1:07.351 |
| 2) | Caden Thure | 1:07.600 |
| 3) | Maximilian Bui | 1:07.651 |
| 4) | Eric Monteith | 1:07.662 |
| 5) | Owen Lerman | 1:07.724 |
---
Heat 1A
Blackledge started with a healthy lead in heat 1A while Daniel Eaton leapfrogged from 3rd to P2 at the green. As the heat wore on, the top 4 of Blackledge, Eaton, Eric Monteith, and Scott Milne began stretching out, each driver separated from each other by at least a kart length in lonesome fashion. Into the final lap, Milne managed to catch up with Monteith, sneaking right ahead to 3rd. Crossing the checkered with ease was both Blackledge in P1 followed by Eaton.
Heat 1A Results

| | |
| --- | --- |
| 1) | Thomas Blackledge |
| 2) | Daniel Eaton |
| 3) | Scott Milne |
| 4) | Eric Monteith |
| 5) | Johan Lindbrandt |
---
Heat 1B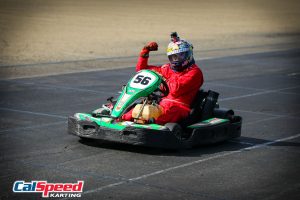 Currently chasing the second step of the overall, Thure was off to a good start in heat 1B while Don Diego Veloria swapped spots for 2nd with Owen Lerman. A battle for P2 soon raged on between Veloria, Lerman, and James Suggs. Meanwhile, Thure sailed away in P1 uncontested. With 2 laps to go, Suggs led the pack of 3 behind Thure. Randy McKee jumped into the mix as well, taking the fight to Suggs which allowed Veloria to claim P2. Lap traffic at the white flag allowed McKee to take it away from Veloria in Short Beach. The latter was down to P4 but passed Suggs inside turn 4 for a P3 finish.
Heat 1B Results

| | |
| --- | --- |
| 1) | Caden Thure |
| 2) | Randy McKee |
| 3) | Don Diego Veloria |
| 4) | James Suggs |
| 5) | Kevin Erikson |
---
Heat 1C
A lot of action ensued right away for heat 1C as Tony Chen made an aggressive inside move in turn 4 to jump from 3rd to 1st in the starting lap. Leaders did not have working together in mind making a very tight accordion of drivers extend for beyond the top 10. Jetson Lieser made a pass on the inside at turn 4, taking the top spot over Chen and Dmitry Korotkov in P3. Lieser went purple, creating a small cushion for himself as the top pack began to settle. Floerchinger grabbed P3 briefly from Korotkov in the hairpin but the latter immediately attacked at turn 4 to take it right back. A drag race out of the bypass brought Floerchinger into 3rd again while Lieser and Chen broke away. Tony Wika quietly waited behind Floerchinger and Korotkov– the white flag arrived and he snuck ahead the other two at Contino, holding onto 3rd place as the checkered flag dropped.
Heat 1C Results

| | |
| --- | --- |
| 1) | Jetson Lieser |
| 2) | Tony Chen |
| 3) | Tony Wika |
| 4) | Michael Floerchinger |
| 5) | Tyler Rousseau |
---
C-Main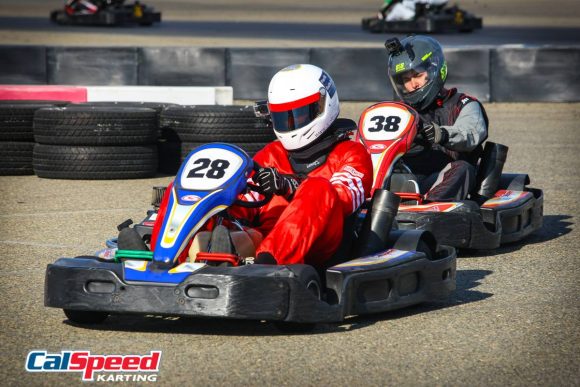 Having had a rough day, previous podium finisher John Rice started on pole in the C-Main with Justin Altman in tow. The two moved quickly away while Juan Ricart and Jacob Abrams battled it out behind them. A penalty shuffled the group allowing Ivan Martinez to continue his excellent run forward, resting at P4 after his P10 start. Rice still led the way with Altman holding on. Martinez passed Abrams in the bypass for a P3 finish when the dust finally settled.
C-Main Results

| | |
| --- | --- |
| 1) | John Rice |
| 2) | Justin Altman |
| 3) | Ivan Martinez |
| 4) | Jacob Abrams |
| 5) | Paul Fox |
---
B-Main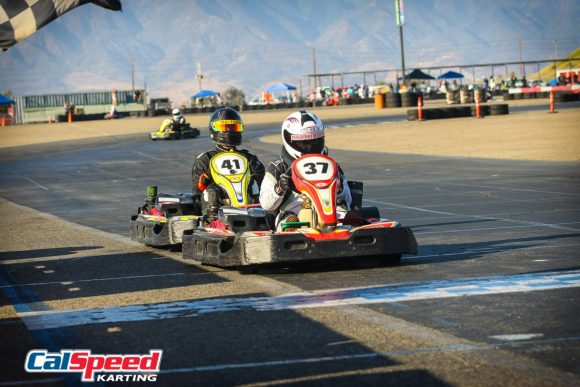 B-Main saw Korotkov, Bryan Schubert, Mark Sternberg, and Brian Starr leading the way from the get go. Schubert and Starr exchanged positions multiple times, eventually Maximillian Bui found his way ahead to latch onto Korotkov. At the halfway mark, he took the top spot in the hairpin, sternly holding onto the helm from Korotkov's constant presence. With Starr and Schubert in P3 and 4 respectively, the checkered was coming close. At the white flag, Korotkov pulled a final pass in the last corner for the transfer to the A-Main.
B-Main Results

| | |
| --- | --- |
| 1) | Dmitry Korotkov |
| 2) | Maximilian Bui |
| 3) | Brian Starr |
| 4) | Bryan Schubert |
| 5) | Mark Sternberg |
---
A-Main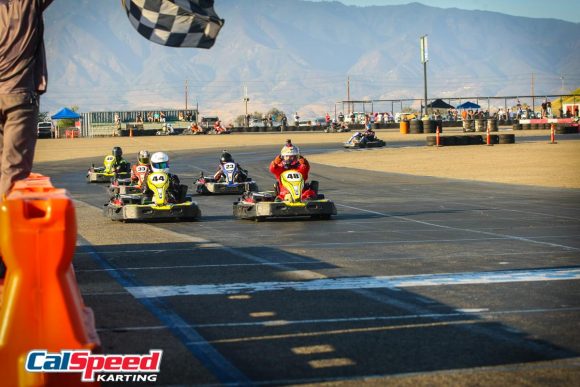 It would seem that the A-Main would leave Blackledge uncontested for the win, but that was not going to be the story. Behind him, Thure, Lieser, Chen, and Eaton were all brewing a battle. Working together at the top can be helpful in gapping the field but it just wasn't happening. Lieser took P2 ahead of Thure while Blackledge continued having an easy time ahead of those jostling behind. No changes took place… It wasn't until 2 laps were left that the pack of Lieser, Thure, and Eaton caught up to Blackledge. Then all the action came– white flag came up and Lieser threw himself on the inside at Short Beach. It was short lived as immediately the entire group shuffled completely. Thure jumped ahead of both at Contino and Scott Milne suddenly became a contender for the podium after starting the main in 8th. Incredible run forward by Milne! The checkered flag would fly high a mirror of the last round: Thure with his second career win, Blackledge in 2nd place, and Milne seeing the podium once again.
A-Main Top 10 Results

| | |
| --- | --- |
| 1) | Caden Thure |
| 2) | Thomas Blackledge |
| 3) | Scott Milne |
| 4) | Jetson Lieser |
| 5) | Daniel Eaton |
| 6) | Johan Lindbrandt |
| 7) | Eric Monteith |
| 8) | Tony Chen |
| 9) | Don Diego Veloria |
| 10) | Tony Wika |
---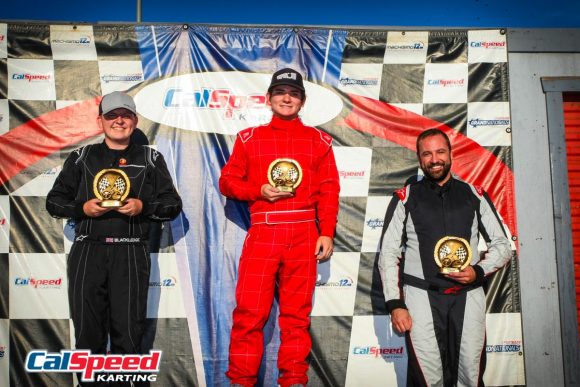 With the end of the season coming in just under a month, we now see Blackledge clinching both the Summer Sub-championship and the Overall. As for the rest of the podium, it's still up in the air. Thure has now inched dangerously close to Veloria's current P2 standing with only 9 points separating the two drivers after the former's back-to-back wins. The stakes may be high but Veloria has a great cushion and no risk of falling to 4th. It's now a battle between him and Thure for the final steps of the podium…
Sprint 2017 Current Standings (With Drop)
| | | | |
| --- | --- | --- | --- |
| 1) | Thomas Blackledge | 2070 | (545) |
| 2) | Don Diego Veloria | 1924 | (479) |
| 3) | Caden Thure | 1915 | (449) |
| 4) | Randy McKee | 1862 | (484) |
| 5) | Tyler Rousseau | 1762 | (177) |
| 6) | Kevin Erikson | 1724 | (290) |
| 7) | Tony Wika | 1579 | (167) |
| 8) | Eric Monteith | 1568 | (0) |
| 9) | Spencer Russell | 1557 | (335) |
| 10) | Owen Lerman | 1485 | (307) |
Sprint 2017 Summer Sub-championship Standings (With Drop)
| | | |
| --- | --- | --- |
| 1) | Thomas Blackledge | 880 |
| 2) | Scott Milne | 855 |
| 3) | Tyler Rousseau | 840 |
| 4) | Caden Thure | 833 |
| 5) | Randy McKee | 812 |