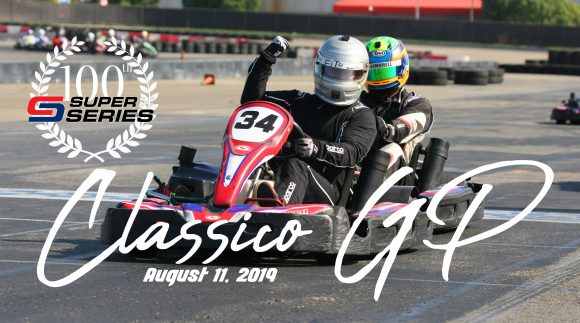 For Sport Karters at CalSpeed, the 'Classico GP' is their Monaco; their Daytona; their Indy. This is the big one, the one every driver wants to win. And for 2019 this race is bigger than ever, and even more special…
The weekend will kick off on Saturday with the Race Clinic, followed by the Sprint Series, the TinMan 30-minute enduro, and then finally capped off with CalSpeed's first ever sport karting All-Star Race. On Sunday we will see the IronMan Series take to the track first, followed by the granddaddy event of them all and the 100th Super Series event ever: the 2019 Classico Grand Prix.
Saturday, 8/10:
Race Clinic #8:            7:30a
Sprint Series Rnd #8: 11a
TinMan Enduro #6:     3:30p
All-Star Race:          4:30p
Sunday, 8/11:
IronMan Series Rnd #8: 8a-9a
Classico GP, Super Series Rnd #8: 9a-4p
With this being such a momentous occasion, we are pushing to make this event bigger and better than ever, adding a level of excitement above and beyond a typical Sprint or Super Series event. We have partnered with several companies to make this a really fun weekend, including Decuzzi Tires, Lucas Oil, Red Six Race Gear, A New Direction promotional products, Awards & Specialties, and Molecule Sports. And regardless of whether or not you make the podium, every driver that enters the Super Series will get a special shirt commemorating the 100th event and the Classico GP. And the ONLY way to get one of these shirts, is to be on the entry list for the Classico GP!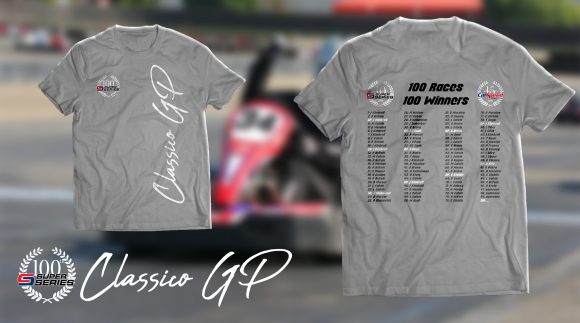 Adding to the racing action and commemorative shirt, we'll have a few more things that will add to the event, including a GranStand simulator, a Mario Kart Tournament, food service all weekend, free pizza and beverages Saturday night, as well as overnight camping available so people can hang out a bit later on Saturday if they want to stay on site. As always at the Classico GP, we'll also have the poster presentation to last year's winner-Sean Fite- which the winner of the GP will also get, and be on for next year. And of course the special Classico GP trophy, this year emblazoned with the '100' as it also pays tribute to the 100th Super Series in history.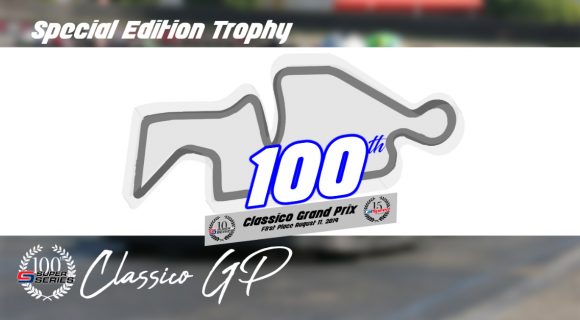 We'll be stepping up the coverage for this event as well, with Justin Schuoler on the mic all weekend calling the races and snagging interviews, which will also be streamed live on Mixlr. We'll also have both Sean Buur and Diego Alvarado on hand not only taking pictures but getting even more video and interviews for our social media, all of which go towards a planned post-race edit of the event. On top of that, expect races to be streamed live with onboard cameras both from CalSpeed, as well as customer camera; all of which we will link to on our new event page for the event here.
Inaugural All-Star Race
As was mentioned, CalSpeed's first ever All Star race will happen Saturday night, an invitation-only event for some of the best in the business from the IronMan Series and Super Series over the years. The race will be 25 laps in length, with drivers required to not only make a single pit stop, but also a Joker Lap, all on a slightly modified Classico Circuit.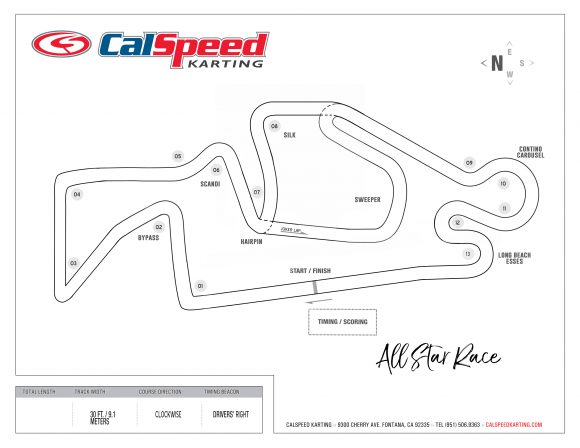 The roster of drivers is a who's who of sport karting here at CalSpeed -plus a couple of special entries- and it is sure to be one helluva show for everyone in attendance. Here is the complete roster of drivers confirmed for the inaugural event:
Jon Kimbrell
Logan Calvin
Miles Calvin
Patrick Britain
Alyssa Yauney
KC Cook
Darren Mercer
Taylor Hays
Adam Nagao
Charles Eichlin
Sean Fite
Alexander Bermudez
TJ Blackledge
Diego Morales
Jose da Silva
Mark Connell
Bill Kreig
Chris Huerta
Derek Esquibel
Mike Smith
The 2019 Classico Grand Prix weekend will see all of CalSpeed's arrive and drive events combined into the same weekend for the first time, and everything is shaping up to be very exciting. In the 15th year of CalSpeed, the 10th season for the Super Series and IronMan Series, and the 5th season of the Sprint Series, having the 100th Super Series event as the biggest race of them all is just icing on the cake. If there is one event you don't want to miss, it's this one!
Sponsors