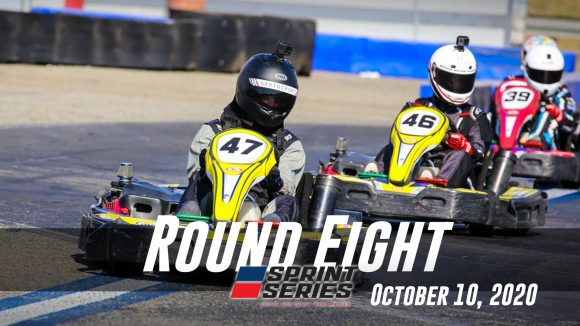 On Saturday, drivers finally arrived to the finale of the 2020 Sprint Series Season. Albeit a unique one to say the least, the year's action did not disappoint and to cap things off, we'd not only wrap up the championship on some very slim margins but also see a familiar face finally break a curse…
Qualifying
As the namesake suggests, Tecnico is CalSpeed's most technical course on offer. A driver that can lay a fast time down on this would no doubt be in position for a good race so it would be no surprise that Diego Alvarado would put himself on pole for the last qualifying of the season. Both he and Michael Martin would be the only drivers to break into the 1:01 range for the day.
Qualifying Top 5
| | | |
| --- | --- | --- |
| 1) | Diego Alvarado | 1:01.859 |
| 2) | Michael Martin | 1:01.906 |
| 3) | Matthew McCoy | 1:02.105 |
| 4) | Kiron Chakraborty | 1:02.229 |
| 5) | John Rice | 1:02.236 |
Heat 1A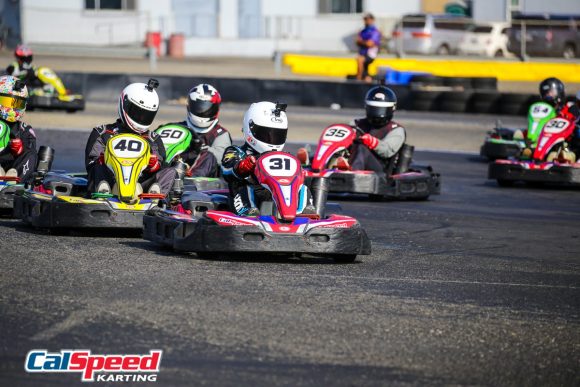 For heat 1A, pole sitter and current points leader Alvarado set off to a blistering pace just ahead of Kiron Chakraborty. The action would quickly ensue behind them, and the pair would easily leave the field behind. With only a lap or so go to, a lapper almost shook things up in the front, but it would stay the Diego show all the way to the checkered flag, him finishing ahead of Chakraborty and then Tommy Haake in 3rd.
Heat 1A Results
| | |
| --- | --- |
| 1) | Diego Alvarado |
| 2) | Kiron Chakraborty |
| 3) | Donnie Clarke |
| 4) | Tommy Haake |
| 5) | Matt Steele |
Heat 1B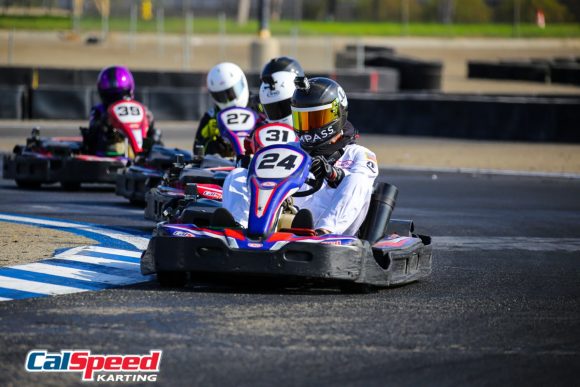 Every point would matter in contention for the final pieces of hardware in the 2020 Championship. In heat 1B, that would be the goal for driver John Rice, as he wrestled with leader Michael Martin, for the top spot. Meanwhile, there would be much jostling for position all around them, and eventually Rice would take the helm as 2R driver Jeremy Aldridge also followed suit to line up just behind him. Rice kept Aldridge at bay, and was able to keep hold of the win for heat 1B.
Heat 1B Results
| | |
| --- | --- |
| 1) | John Rice |
| 2) | Jeremy Aldridge [2R] |
| 3) | Chris Millar |
| 4) | Michael Martin |
| 5) | Carl Zhu |
Heat 1C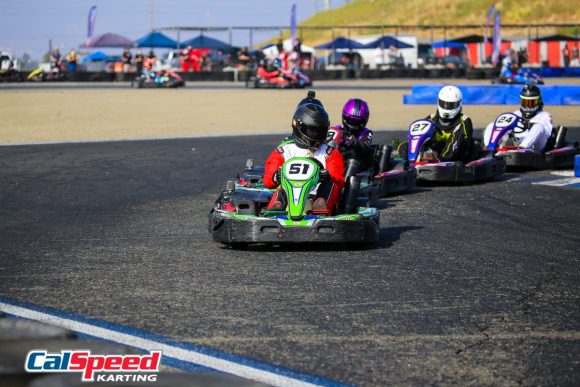 Making a return appearance to the Sprint Series would be 2019 champ, Tyler Redman for his last opportunity as a 2R driver. Redman clocked off fast lap after fast lap and showed just exactly why he won last year. Meanwhile, the two duking it out behind him were Matthew McCoy and Evan Lawrence. Just when things seemed to quiet down, a lapper would get thrown into the mix, and by the checkered, it would be Redman winning the heat race just ahead of Lawrence 2nd and McCoy 3rd.
Heat 1C Results
| | |
| --- | --- |
| 1) | Tyler Redman [2R] |
| 2) | Evan Lawrence |
| 3) | Matthew McCoy |
| 4) | Randy Mermell |
| 5) | Jack McNeel |
C-Main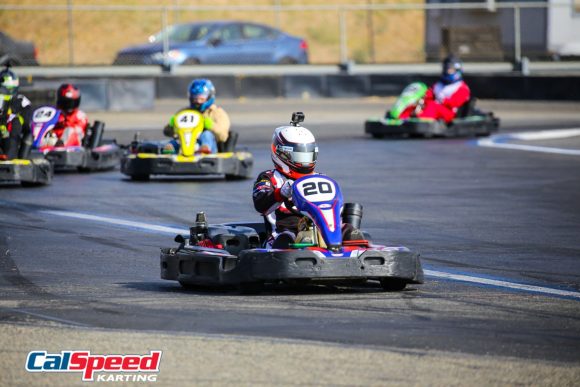 Due to an uncharacteristic mistake in his heat race, Ivan Martinez made an unusual appearance in the C-Main, starting not quite at the front. His experience quickly took him to the top spot, and safely away from the roughhousing amongst the entirety of the field. It would be a dominant and uncontested run for him and he'd grab the win and transfer to the B-Main with ease.
C-Main Results
| | |
| --- | --- |
| 1) | Ivan Martinez |
| 2) | Brian Farley |
| 3) | Kyle Delaplane |
| 4) | Patrick Taber |
| 5) | Connor Hicks |
B-Main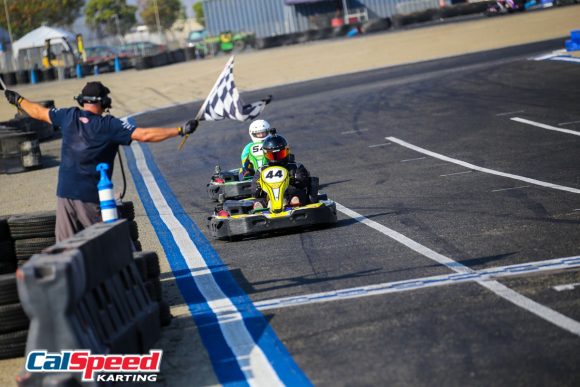 The B-Main started with series regular Adrian Comstock and newcomer Wrigley Corales dueling for control at the green flag. Corales maintained a good hold but Comstock lay close, never allowing much breathing room. Meanwhile, Gregorio Pelaez also kept the pressure on. Corales managed to never lose the lead, and Comstock, after dispatching other opportune drivers, finished 2nd just ahead of Pelaez in 3rd.
B-Main Results
| | |
| --- | --- |
| 1) | Wrigley Corales |
| 2) | Adrian Comstock |
| 3) | Greg Pelaez |
| 4) | Matthew Justmann |
| 5) | Raffaele Pazzaglia |
A-Main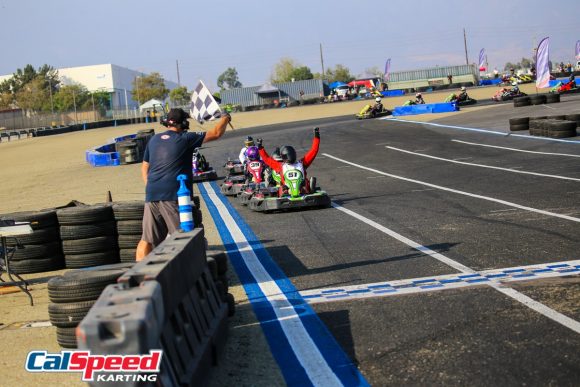 Drivers finally arrived at the A-Main– the points separating contenders for the 2020 podium were pretty narrow so things were unlikely to be friendly on course. Going into the finale, the facts were as follows: Alvarado sat 48 points ahead of Matt Steele. Donnie Clarke, Tommy Haake, John Rice, and Ivan Martinez were all in a 15 point window (though Martinez' C-Main result was sure to hurt his game this time around).
The last A-Main of the 2020 Sprint Series began with Diego Alvarado, John Rice, and Tyler Redman at the front. As the race unfolded, it would seem that the championship pressure was coming on strong and the top group would look nothing like the start. Alvarado fell back, allowing Rice and Redman into the dominant positions. Evan Lawrence kept on the offensive, and several positions back, last round's winner Donnie Clarke was also on a mission. At the halfway mark, Redman made the move, stealing away the lead from Rice, with Lawrence keeping close enough by to slot in for 2nd to hook right onto Redman's blistering pace. Clarke meanwhile continued to dispatch driver after driver until finally positioned neatly in line with Redman and Lawrence. With one to go, Clarke made the move, stealing 2nd away from Lawrence. Ultimately, this gave Redman exactly the breathing room he needed to finally end his string of P2 finishes, going on to his first ever– and last– Sprint Series win.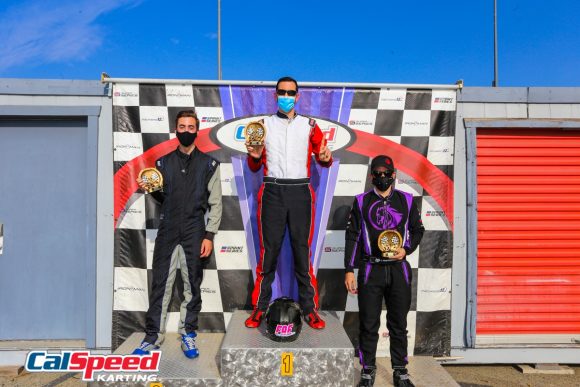 The 2020 Sprint Series season wraps up with Diego Alvarado as the new Champion! Behind him, the points were already tight… but with the books all closed, it turns out that Matt Steele, by an oh-so-slim 2 points, would win out 2nd Overall just ahead of Donnie Clarke in 3rd for the 2020 season!
A-Main Results
| | |
| --- | --- |
| 1) | Tyler Redman [2R] |
| 2) | Donnie Clarke |
| 3) | Evan Lawrence |
| 4) | Kiron Chakraborty |
| 5) | John Rice |
| 6) | Michael Martin |
| 7) | Tommy Haake |
| 8) | Jeremy Aldridge [2R] |
| 9) | Matt Steele |
| 10) | Diego Alvarado |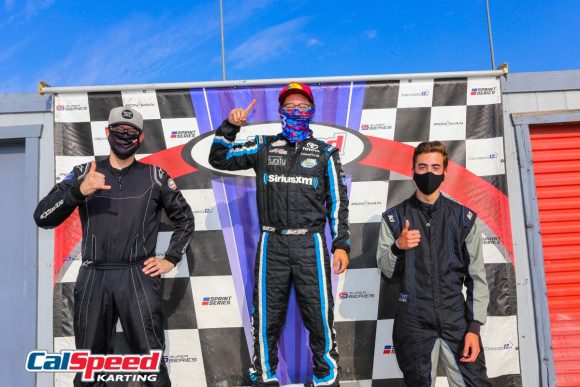 Sprint Series 2020 Final Points Standings
| | | | |
| --- | --- | --- | --- |
| 1) | Diego Alvarado | 1952 | (0) |
| 2) | Matt Steele | 1887 | (242) |
| 3) | Donnie Clarke | 1885 | (227) |
| 5) | John Rice | 1872 | (186) |
| 4) | Tommy Haake | 1855 | (197) |
| 6) | Ivan Martinez | 1812 | (116) |