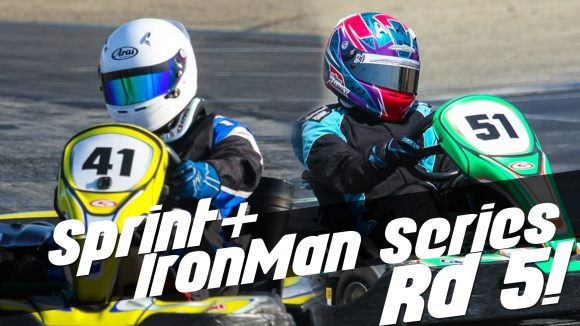 Completion of Sprint Series Round 5 marks the halfway point of the season; though the Winter Sub-championship was sealed with a clinch last round, the finish this past weekend definitely showed that new faces are muscling their way onto the top of the podium. An upset for the championship may sure be on its way…
Practice/Quali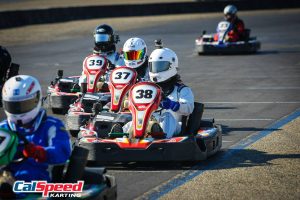 Doing quite well in the quali department as of late, Kevin Erikson set fast lap immediately at the beginning of his practice and quali session. It would be no surprise however that returning 2016 Sprint Series champion Alexander Bermudez would steal this away fairly quickly. He'd keep this for the majority of practice– as the session came to the close, a literal last minute hot lap put Erikson back at the top with Caden Thure off pole. This would be Erikson's second pole in a row for the Sprint Series this season!
Quali Results

| | | |
| --- | --- | --- |
| 1) | Kevin Erikson | 1:03.158 |
| 2) | Caden Thure | 1:03.218 |
| 3) | Alexander Bermudez | 1:03.226 |
| 4) | Tony Wika | 1:03.248 |
| 5) | Ivan Martinez | 1:03.313 |
---
Heat 1A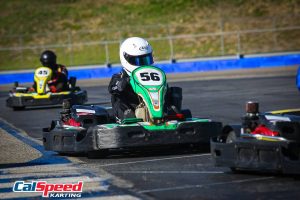 Hot off a good quali, Erikson set out on an early lead in heat 1A, confidently pulling away from the rest of the pack. Currently in contention for the top two spots on the overall, Don Diego Veloria (starting 2nd) and Thomas Blackledge (starting 5th), met quickly and were not about to play nice. Despite their constant dueling, the halfway mark came along with the two squarely on Erikson's tail. With two laps left, Blackledge took the lead as Erikson latched on, not letting any more than an inch between their karts. The checkered flag saw Blackledge at the front followed by Erikson and Veloria.
Heat 1A Results

| | |
| --- | --- |
| 1) | Thomas Blackledge |
| 2) | Kevin Erikson |
| 3) | Don Diego Veloria |
| 4) | Brian Starr |
| 5) | Andrew Brown |
---
Heat 1B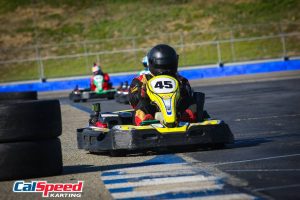 The top three of Thure, Ivan Martinez, and Sulaiman Saheel lined up neatly at heat 1B's green flag. Saheel had no qualms about attacking for the move forward but this quickly allowed P4 and P5 to catch up. Immediately Tyler Rousseau took over the 3rd spot as Thure and Martinez linked up to get ahead. Turning fast lap after fast lap, Rousseau had the speed for a pass in Horseshow and jumped to second just behind Thure. The front pack turned into a tight group of 7 and top 3 would shuffle again with Rousseau leading against Martinez and Thure. At the final corner, Martinez attempted a pass for P1 but in doing so, turned the battle for P2 into a drag race between himself and Thure; the latter coming out ahead just by a hair.
Heat 1B Results

| | |
| --- | --- |
| 1) | Tyler Rousseau |
| 2) | Caden Thure |
| 3) | Ivan Martinez |
| 4) | Eric Monteith |
| 5) | Robert Hernandez |
---
Heat 1C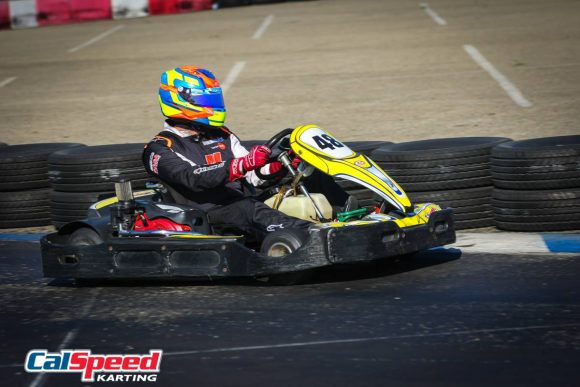 Heat 1C would end up seeing the most action of the day thus far. All eyes were on Bermudez who led the way from the green flag. Diego Alvarado, returning from missing last round, knew he had to make haste to catch up from his P2 starting position. Patience was not in his mind as the two fought lap after lap, further feeding the size of the train behind them. With 2 laps to go, a huge mistake in Long Beach cost him a drop in position that allowed several drivers to get by, one of which incurring a penalty along the way from gain off contact. In the end, it would be Bermudez, Samuel Hunt who started in 6th, and Alvarado who would earn the top 3 finish for the last heat of the day.
Heat 1C Results

| | |
| --- | --- |
| 1) | Alexander Bermudez |
| 2) | Samuel Hunt |
| 3) | Diego Alvarado |
| 4) | Calvin Ku |
| 5) | Steve Frame |
---
C-Main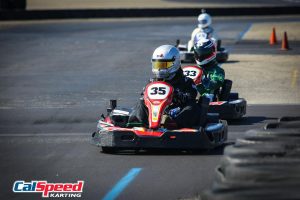 C-Main started off with a good lead by Matt Steele followed by Jesse Lerman. It wasn't looking like the field would be able to catch up with Steele's great pace so the fight for 2nd would be the one to watch. Zachary Jo, returning from a hiatus in Sport Karts, brought in extra experience from competition karting– he made his jump from 6th to 2nd look easy. Michael Eguina made probably the most intense run forward of the day; after an issue in his heat race that started him in the back of the C-Main, he made quick work of the track and his opponents between 23rd position and ultimately grabbed P4 in the end after 2 underweight DQs in the top 5.
C-Main Results

| | |
| --- | --- |
| 1) | Matt Steele |
| 2) | Zachary Jo |
| 3) | Jesse Lerman |
| 4) | Michael Eguina |
| 5) | Austin Diament |
---
B-Main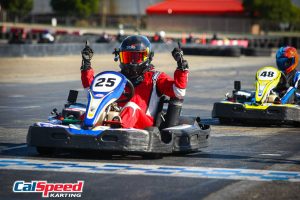 Quite a bit of wrestling took place in the front of the pack as the B-Main got underway. Michael Chen, a frequenter of the Super Series, took advantage of the infighting as he sailed away from Spencer Russell in P2 and Seth Willits in P3. Amidst the drastic position changes, the P2 battle grew to 10 karts large at the halfway mark making it unclear what would happen next. Several names had a shot at the top 3, one of which being Russell who managed to regain 2nd in spite of all the action. Dax Veloria made inroads from his 8th place start to take the 3rd in the B-Main.
B-Main Results

| | |
| --- | --- |
| 1) | Michael Chen |
| 2) | Spencer Russell |
| 3) | Tony Wika |
| 4) | Dax Veloria |
| 5) | Michael Martin |
---
A-Main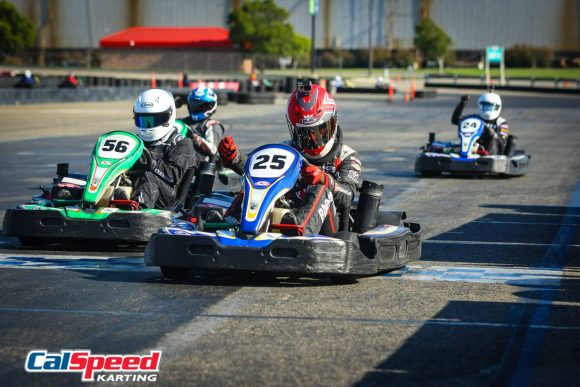 Exciting is almost not enough to describe how the A-Main went down this time around. 2016 champ Bermudez led the charge but unfortunately received major contact in Long Beach, forcing him to make every moment count to regain his foothold back out of a drop to 8th. With the front of the field in disarray, Blackledge took the reigns with Alvarado and Martinez alongside. Alvarado had missed his first near-win during the 2017 opening round so the bumper to bumper hold onto Blackledge was one that had quite the intensity backing it up. 2nd in championship points, Don Diego Veloria made his way from 9th to stay right behind Alvarado while Bermudez made a great recovery, shooting through to the 5th spot– however, time was running out. As the white flag came up, it was already clear that Alvarado was going to attack at every opportunity. Several attempts didn't push through but it was the one important corner, the final one, where he would go for the successful pass to take his first W in the Sprint Series over rival Blackledge.
A-Main Top 10 Results

| | |
| --- | --- |
| 1) | Diego Alvarado |
| 2) | Thomas Blackledge |
| 3) | Don Diego Veloria |
| 4) | Ivan Martinez |
| 5) | Alexander Bermudez |
| 6) | Tyler Rousseau |
| 7) | Andrew Brown |
| 8) | Samuel Hunt |
| 9) | Eric Monteith |
| 10) | Randy McKee |
---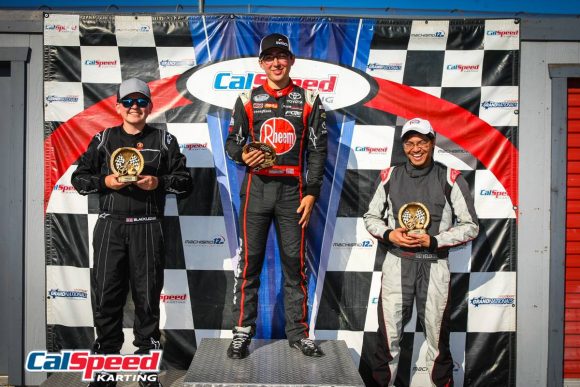 Sprint 2017 Current Standings (With Drop)
| | | | |
| --- | --- | --- | --- |
| 1) | Thomas Blackledge (Winter Sub-champion) | 1190 | (270) |
| 2) | Don Diego Veloria | 1130 | (260) |
| 5) | Diego Alvarado | 1110 | (0) |
| 3) | Andrew Brown | 1094 | (0) |
| 4) | Caden Thure | 1072 | (243) |
| 6) | Randy McKee | 1054 | (235) |
| 7) | Seth Willits | 989 | (162) |
| 8) | Dmitry Korotkov | 950 | (0) |
| 9) | Michael Floerchinger | 929 | (0) |
| 10) | Tyler Redman | 919 | (0) |