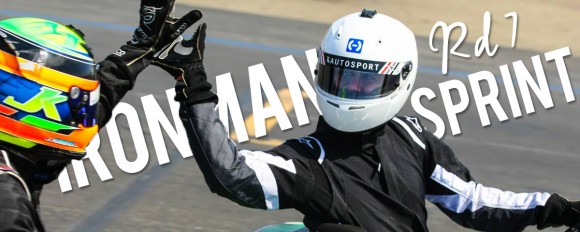 The seventh round of the 2016 CalSpeed IronMan Series Championship would return to the Tecnico layout, having last run it back at Round #2 in February. This time around the conditions were much warmer, and to add an element of challenge, Mother Nature also decided to turn up the wind a tad. Sustained high winds saw drivers have to smartly work the draft and think even harder about their pit strategy, as being alone could mean losing even more time than usual.
Regardless of the elemental curveball thrown at the field of thirty drivers, we once again saw the same face standing atop the podium as we did in February. Adam Nagao would sweep the Tecnico races this year, and in the process would clinch the overall title. Alyssa Yauney put together her best performance to date to snag second, while Summer Series title contender Sean Fite maintained his strong run with a third overall, and his second podium in a row.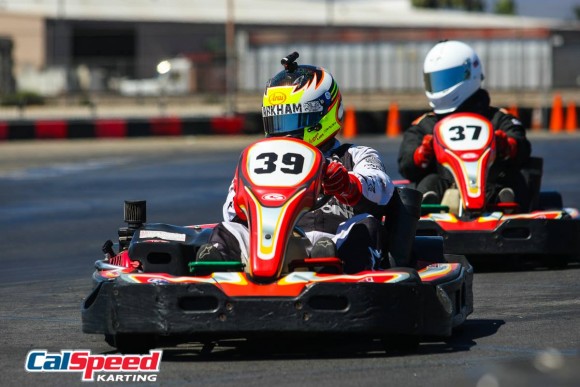 Simon Wong may have led the field away from pole position, but it would be podium contender Mark Connell leading the field when they crossed the strip for the first time, his first laps led of the season. Wong would fight back in the Tecnico Hairpin the very next lap, but would not be able to stick the pass, and would elect to forgo challenging for the lead for making his first pit stop. From there it was Connell pacing the lead pack, which included Nathan Hood, Alyssa Yauney, Dennis Kimbrell, and even more in a train behind them. Up front after strong strating positions, the lead group looked to capitalize on this advantage, and rebound from tough finishes the previous round. Of the group it would be Connell and Yauney with the most fortunate of runs, with Connell leading the way until lap 13.
This is when the point leader and Tecnico ace Adam Nagao finally caught up with the leaders. Methodically working his way through the field, Nagao would take over the top spot from Connell and lead his first laps of the Summer Series starting with the 14th trip around that day. Relinquishing the top spot, Connell would dutifully ride around in second, stay right with Nagao while Yauney did her part in third. The trio would stay this way for several more laps, while Jon Kimbrell and Sean Fite booked along in 4th and 5th. This quintet would stay together until just after halfway, when position jostling and traffic led to unwanted gaps and decisions to pit, hoping to lose the least amount of time and possibly find an advantage.
This would be the turning point in the race in the fight for the podium, as both Jon Kimbrell and Mark Connell would elect to pit out of the lead train, while the lead trio of Nagao, Yauney, and Fite stayed out. This would be the last time that anyone else would be within reach of the podium fight…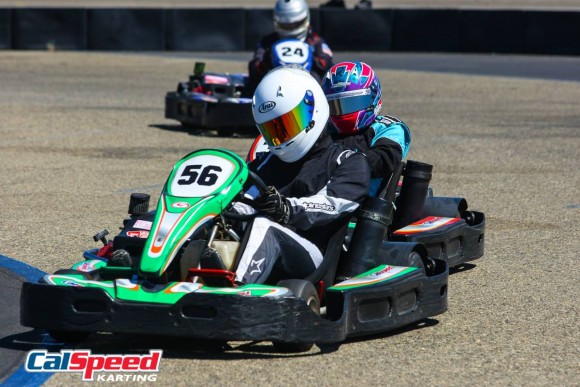 From that point on it was Nagao leading the way, with Yauney and Fite in tow; while most of it was working together and being smart, there were a few peeks and attempts that would not come to fruition, and back in line they went. This smart driving, plus the fact all of their competition had basically headed into the pits prior to them meant they had a hefty gap when they finally decided to head down pit lane with a little over five minutes left to play. Fite would be the first to blink, and while his stop was much better than last round, when Nagao headed in one lap later he would be about four tenths quicker. This left Yauney out by herself for a lap, but she was still able to come out in front of Fite, even with a slightly slower pit lap. These two would see Nagao however, as he would make his stops back to back, holding astern of the other two while the stops cycled through. His advantage became apparent once they made their final stops however, with Yauney stopping first, allowing Fite to grab valuable bonus points for leading a lap – his only one of the race.
With all stops complete it was Nagao stretching his advantage to just over 2 seconds over Yauney, who herself was able to hold on to second via a bit slower second stop from Fite. Nagao would cruise to a Tecnico sweep, scoring his third win of the season and with it the 2016 CalSpeed IronMan Series Overall Championship. Alyssa Yauney would have to fight to do it, but would hold off Sean Fite for her first ever IronMan podium, with the latter making it two podiums in a row, and with an excellent shot at the Summer Series title.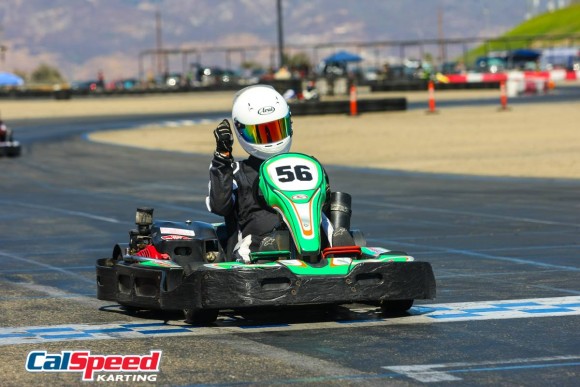 For Adam Nagao the win on Tecnico was icing on the cake that was his Overall Championship, having already brought home the Winter Series title earlier in the year. After the race he was noticeabley happy with the result, but still had an eye for more:
"It feels good, but at the same time there is no time to rest because I have my eyes set on the Summer Sub-Championship and Chase. So it hasn't quite hit me yet, as I'm still pushing for more success."
The Summer Series Championship will be decided in one month's time on the Grande CCW layout, on Saturday October 22nd. Spots are filling up quick, so be sure to sign up today for what is sure to be an exciting Season Finale!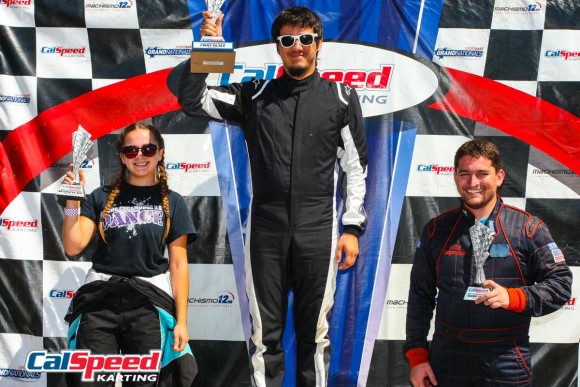 IronMan Series Round #7 Top 10
| | |
| --- | --- |
| 1) | Adam Nagao |
| 2) | Alyssa Yauney |
| 3) | Sean Fite |
| 4) | Jon Kimbrell |
| 5) | Henry Morse |
| 6) | Mark Connell |
| 7) | Taylor Hays |
| 8) | Ariel Rubio |
| 9) | Jake Hood |
| 10) | Chris Carter |
Top 10 Points after Round #7 (1 Drop)
| | | |
| --- | --- | --- |
| 1) | Adam Nagao | 583 - Clinches Championship |
| 2) | Taylor Hays | 504 |
| 3) | Sean Fite | 471 |
| 4) | Henry Morse | 467 |
| 5) | Mark Connell | 457 |
| 6) | Steve Spring | 451 |
| 7) | Jon Kimbrell | 445 |
| 8) | Sergio Bravo | 425 |
| 9) | Ariel Rubio | 384 |
| 10) | Chris Carter | 360 |
Top 5 Summer Points after Round #7 (1 Drop)
| | | |
| --- | --- | --- |
| 1) | Adam Nagao | 195 |
| 2) | Sean Fite | 194 |
| 3) | Steve Spring | 185 |
| 4) | Henry Morse | 180 |
| 5) | Taylor Hays | 179 |