The Machismo 12-Hour Endurance Karting Event is this weekend, running both Friday and Saturday December 1-2. The 10th annual event sees a record number of teams entered, taking to the track for optional practice during Friday, before setting the grid for the race itself via the 1-hour "under the lights" qualifying session that night. Saturday will see the green flag on the now decade-old tradition, releasing the drivers on their LeMans styled running start to their karts. Catch all the previews here on the calspeedkarting.com website over the course of the week, and be sure to follow all the event coverage throughout the event on our official Facebook page!
It seems fitting that the 10th anniversary of the Machismo 12 Hour Endurance Karting Event would also be the largest in its history, with 35 teams across three classes looking to take the green flag on Saturday. With 9 Pro Class teams negotiating 13 teams each in both the Sport and Super Sport categories, the on track action will be fierce, with the 130+ drivers needing to exercise patience as much as speed for 12 hours. In the second of three previews leading up to the event, we take a look at the three different classes, some of the differences in the rule structures for each, and even highlight a handful of teams per category that could be ones to watch on Saturday…
Pro (P1)-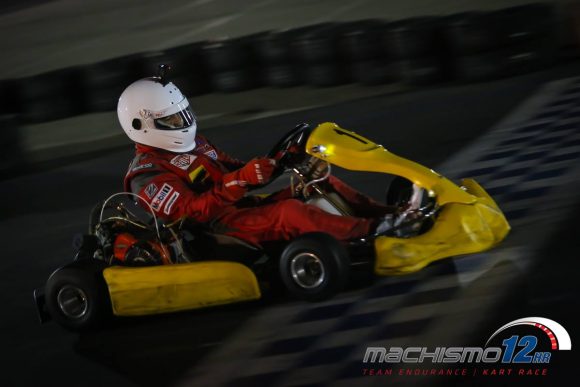 Last year the VLR 206 debuted as the new Pro Class package of choice, replacing the arrive and drive specific Stratos karts employed for years prior. The experiment was a success with no mechanical issues of any kind, and this year VLR 206 owners have been included in the class. Three teams have taken up the challenge this year, needing to combine not only the duties of driving for 12 hours, but also preparing and wrenching on their own equipment, the latter having been exclusive to the experienced CalSpeed mechanical staff up to this point. Once again only the VLR chassis will be employed, with much of the standard 206 rule set regarding the Briggs & Stratton powerplant in play. And as it has been in the past, the Pro Class teams will have a [P1] moniker preceding the team name in timing and scoring, and will have their white marker lights turned on when the sun goes down.
With the inclusion of owners to this category, a few rule changes have been made, the biggest of them being the rules governing minimum weight and drive time. Unlike years past where CalSpeed was able to use its portable ballast system to have each driver at the same weight, a new program was needed with the debut of owners in the class. This is where the average weight rule comes in play; each team member is weighed, a team average calculated, and however much that value is under 200lbs is then added to the kart. Pre and post race scaling of the kart ensures that the proper amount of weight is installed, with the next part of the rule set being how drive time is governed. Essentially there are minimum drive times placed on each team, the goal being to make sure that a heavy driver on the team has to do their 'fair share' and not just be there to pad the team average. Because of this, lap times may vary from stint to stint for each team, although we can expect an all out shootout for pole with the best each team has to offer…
Aside from the adjustment to the weight and drive time rules, the only other big change is in regard to how the mechanical stops will work. Each team is required to stop for a new set of tires once, and to make a single required oil change; when they do this is completely up to the teams. With fuel lasting somewhere between 2 and 2.5 hours, and tires expected to go for perhaps as much as 7 hours or more, each team will want to time their stops around their driver changes to avoid disrupting their strategy. And with mechanical stops unable to be done along with fuel or a driver change, that adds an interesting part to that strategy.
Nine teams have entered the Pro Class for the 2017 event, with a good blend of both the Machismo experienced and those new to the category, with the reigning champs also back to defend their win from last year. Let's take a look at a few of the teams in the class, and perhaps who may have a good shot a securing an overall win after 12 hours…
The reigning Champs, Asylum GranStand…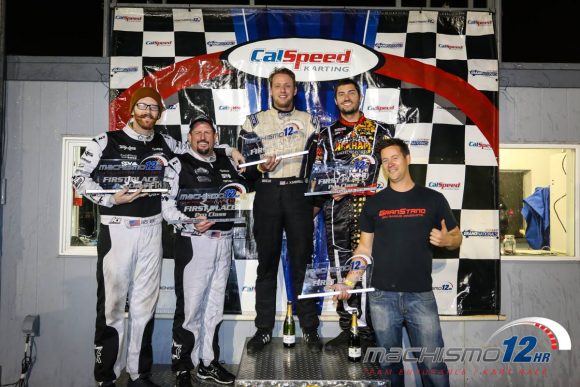 They saw the win slip through their fingers in 2015 after a late race incident, but brought home the victory last year after being virtually mistake free all race. Wes Dent, Mark Connell, and Charles Eichlin are now teamed for the 3rd year in this class, with Jon Kimbrell and Bill Kreig coming over last year to round out the 5-man roster. Coming into this year they have even more experience in the VLR 206 package, with Mark Connell running all season on the CSK Racing team at Tri-C Karters, winning the Masters championship there. Jon Kimbrell ran multiple 206 races this year as well, with Charles Eichlin taking part in a single race late in the year. Only Bill Kreig and Wes Dent are coming into the weekend needing to come back up to speed, but they should be able to do that quick. 2nd in qualifying for the past two years, the speed is there too for the group that sees its roster intact from the top step last year, and heads into the event as the team to beat.
Perhaps the best roster (on paper) from sport karting, SPV-505…
Things started off really well last year with a pole position in qualifying, but crash damage a little after a third of the way ended their bid for the win. Logan Calvin and Alexander Bermudez may be the only returning drivers on the team, but they are joined by Miles Calvin and Patrick Britain to make up there 4 driver squad. Logan, Miles, and Patrick are the past three Super Series champions, with the former two running at Tri-C all season and prior Pro Class winners. Britain is fresh off his best career season in the Super Series, while Bermudez has been putting in practice time over the last several weeks in the 206, making for a very stout combination of drivers. With the entire group having proved their prowess in other arrive and drive racing, and most of which in this race as former winners, Team SPV-505 may be the best team on paper in terms of resumes, and certainly comes in as the strongest of the three owner teams.
Trading jumps and dirt for karts and endurance, Racers For Christ Pro…
Leading the Racers For Christ Pro entry is a well known name, none other than Brian Deegan of Metal Mulisha fame, who has shown to be not too bad on four wheels in his off road truck. No stranger to karts, Deegan has also put in hours in a shifter to stay sharp between races, and should be able to take to the 206 powered Pro Class pretty well. Leading the group in karting experience however is Christian Brooks, who has spent more time in Global Rallycross these days, but also carries some Machismo experience from last year in Super Sport. His teammate on last year's team was fellow GRC driver Travis Pecoy, the duo hoping to bring that endurance experience to their new squad here in 2017. Learning from their ups and downs in that first year will be important, but bolstered by the talents of Justin Peck and driver coach/wheelman Troy Adams, and this team could surprise come Saturday. If these guys get seat time in practice on Friday -unlike coming in cold like last year- then they could be a real threat for the top step.
Former Sport winners enlist help to duplicate that success in Pro, All In Too…
This team is led by a pair of drivers that know a thing or two about winning Machismo's in the Sport class, and are looking to carry that knowledge here into the Pro Class with Team All In Too. Two-time winner with his All-In Racing outfit, Duane Lawson is now looking to get back to the top step as one of the three owner teams in the Pro Class. Steve Jasinski has also tasted victory at the Machismo, and brings much of the 206 experience -both as a driver and a mechanic- to the 2017 lineup. This duo is strengthened with some very fast 206 drivers as well; Jetson Lieser, Kyle Hayner, and Tri-C's Spec VLR class champion Jake Hood. Lieser has proven to be one of the quickest drivers in a 206 kart, while Hayner's years in a 100cc and TAG showed well in this class last year. Hood certainly has the most experience, winning in the VLR Spec class while scoring wins and podiums in other 206 classes all season, and may be the team's #1.
Trading 2-cycle and gears for 4-cyle and momentum, Sciuto Tandon Racing…
This lineup of drivers is known here at CalSpeed as regulars in the Shifter categories, either regularly running at the front of their categories, or having the ability to get in and wheel a kart when asked to. Now they all will trade banging gears for negotiating traffic, each driver entered in the machismo for the very first time; Alan Sciuto, Vivek Tandon, Keawn Tandon, Peter Abba, and Matias Podboj. But they won't enter void of experience in this type of event, as Abba himself has run in short endurance races with this engine and tire package. Adding his strategic expertise to a group already versed in negotiating CalSpeed, the team's goal out of the gate will simply be learning the specifics of the package, and the course itself. This time too, they get to focus on being drivers, and not wrenching or preparing the equipment, something that will surely only make this group an even better challenger for the win. Teams with drivers from outside of sport karting have done well before, winning as recent as 2015; could this team be the next to steal away the top step?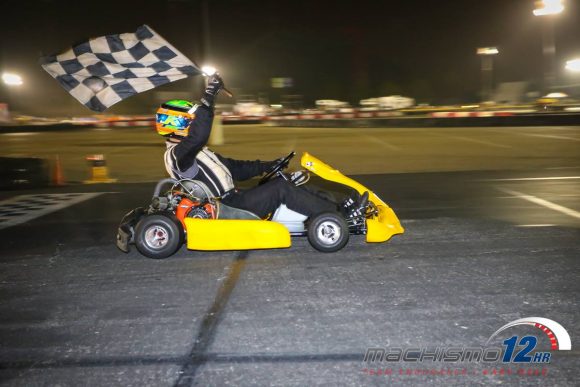 Pro Class Entry List and Rosters:
Asylum GranStand
Bill Kreig, Jon Kimbrell, Mark Connell, Wes Dent, Charles Eichlin
Starleaf 136
Mike Risley, Jay Esterer, Jean-Paul Benveniste
SPV-505
Logan Calvin, Alexander Bermudez, Patrick Britain, Miles Calvin
All In One Motorsports
Antonio Aranda, Andres Aranda
All In Too racing
Duane Lawson, Steve Jasinksi, Jake Hood, Jetson Lieser, Kyle Hayner
Clutter.com Racing
Brian Guevara, Chuck Weeks, Michael Tekstra, Miles McKenna
Wu Tang Gang Pro
Sheng Wu, Jose da Silva, Diego Morales, Ryan Curtin, Rob Holubar
Team Racers For Christ Pro
Brian Deegan, Christian Brooks, Troy Adams, Justin Peck, Travis Pecoy
Sciuto Tandon Racing
Vivek Tandon, Keawn Tandon, Alan Scuito, Peter Abba, Matias Podboj
Super Sport (S1)-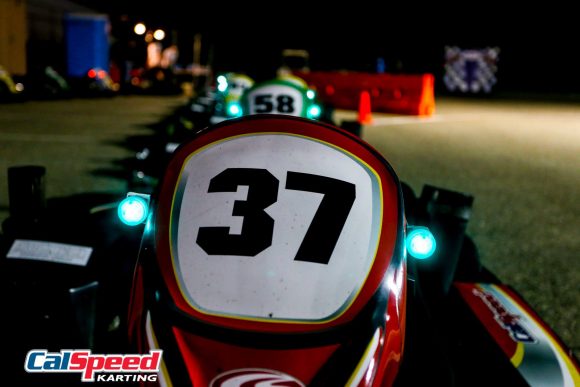 From 2009 there was only one class that utilized the CalSpeed sport karts, but in 2014 that changed with the edition of the 'Super Sport' class. While the name meant it was the new class, this is actually the continuation since the very first Machismo at the Rio in 2008; bring the best team you can without restriction, and try and win an endurance race. In 2014 the rule package adjusted to make this class more open strategy-wise, eliminating stint and driver change requirements, and in recent years, given a maximum fuel load to see 2+ hour stints.
Here in 2017 we see a continuation of last years' rule set, with virtually no changes at all; there are no restrictions or requirements in driver skill or seat time, and each team will change karts with every fuel stop -the only class to do so. Utilizing the 270cc Sodi 'sport kart' regularly used in CalSpeed Karting arrive and drive events, this class is spotted by its green marker lights on the fairing at night, and a [S1] moniker on timing and scoring. Unlike the other two classes, drivers in Super Sport must all be ballasted up to 200lbs, with weights exchanging with every driver change, and those drivers weighed in after every stint. And as was previously mentioned, with a new kart acquired at every pit stop for fuel, the ability to adjust and adapt to the new ride is extremely important, something seen in the first few laps of every new stint.
This year's Super Sport class has 13 teams entered; including the reigning champs (albeit with a roster change), the 2015 champs and last year's runners up, as well as a team with a certain set of wings. There is no shortage for talent in the top level sport kart class, so let's take a little closer look at just who some of those front runners are…
Last year's winning team but with new roster, the Glorious New Day…
Sean Fite is the only returning driver to the namesake that won in 2016, maintaining a 3-driver lineup with Jose da Silva and Nick Marascio rounding things out for the 2017 edition. Da Silva is no small add to the team, fresh off his best season ever in the CalSpeed Super Series with a pair of A-Main wins and the Masters Championship, finishing 8th overall to compliment leader Fite's 5th this season. Da Silva has also shown a knack for finding a little extra at the Machismo, and has routinely been one of the fastest on track in the 12-hour contest. Team Captain Sean Fite has recruited long time sport karter Nick Marascio to round out their 2017 squad, someone who is known for his consistency in the Super Series. It was a close finish for the New Day to score the victory last year, and now with the change in lineup, they are hoping that it will be a 'Glorious' change that sees them go back to back.
Perennial Machismo front runners and former champs, T4 Autosport Red…
The Machismo 12 Hour is a challenging test of both mind and body for any team, but when that team is only two drivers it gets just that little bit more difficult. Silencing the nay-sayers in 2015 with the Super Sport win, Adam Nagao and Taylor Hays backed up their performance last year by narrowly missing out on the win, finishing in second just 32 seconds astern. Unchanged for the third year in a row, the dynamic duo will look to once again stand on top of the Machismo podium in this class, and enter the vent with arguably the best resume. The endurance arm of the CalSpeed Karting arrive and driver offering, the IronMan Series has not left the possession of these two drivers in the past three seasons. Hays won it in 2015, and Nagao has gone back to back in '16 and '17; with Hays finishing third last year and second this year for good measure. Endurance? Check. Speed? Check. Strategy? Check. These guys are always ones to beat in this category…
The team with more laps around CalSpeed than any other, Andlogical Logistics Racing…
Cameron Jocelyn has been racing at CalSpeed since he was a cadet racer, and later was a mechanic and tester at CalSpeed. KC Cook raced here and finished runner up in the Super Series in 2013 before joining the staff and become a tester, later competing for a podium at the SuperNats. Darren Mercer started racing in the Super Series in 2011, was a regular title contender in it and at the Sport Kart Grands, and helped out in testing for CalSpeed during the regular Super Series season. While the amount of seat time on the Machismo track is no more than a lot of the other front running teams in Super Sport, their laps at the facility outnumber all others considerably. Both Mercer and Cook have found the podium in prior years, with Cook coming home with a win when the event came to CalSpeed for the first time in 2013. This will be Jocelyn's second Machismo -having run last year- but he will no doubt be one of the fastest and smartest whenever he is on track.
Machismo rookies led by one of sports car racing's best, Red Bull Racing…
Of the four driver squad that makes up Red Bull Racing, only Patrick Long has been to the Machismo, actually running in the Pro Class last year. The team suffered an early incident that took them out of the running in 2016, but Long's speed and precision behind the wheel more than supported his pedigree as a top level sports car driver. He'll add his prior experience winning the fabled Dromo 12-hour endurance karting race in 2008 to help his fellow teammates, all making their debut in this 12-hour classic. Mitchell DeJong is the next on the list of eye-brow raising talent, the newly turned 20-year-old having shown his skill in everything from online racing to GRC. Completing the quartet of Red Bull Athletes are young Mia Chapman and Seth Quintero; both excelling in the world of off-road racing, each will meet the challenge of endurance kart racing head on Saturday. With Long at the helm, it is not a question of if this group will come up to speed, but how quickly?
Returning off road racers with little bit of NASCAR flare thrown in, Team Racers For Christ SS…
Brand new to the endurance karting game in 2016, the 'off road racers' team entered the event with zero practice, and while they had speed a-plenty, setbacks and a few mistakes keep them out of the running for the podium. Pecoy and Brooks have moved up to Pro this year, but the returning Machismo experience will be bolstered with something solid this time around for the newly named team. Ronnie Anderson returns to the Super Sport class, while Cole Keatts and Myan Spaccarelli move up from the Sport category to lend their experience to the cause. In Keatts there is undeniable pace, the new GRC racer showing promise in the 2016 event, while Spaccarelli brings poise and direction to a group of kids to help temper their enthusiasm. Add to this group ARCA standout Sheldon Creed and up and coming motorsports star Hailie Deegan, and this crew certainly has the spotlight on them. Deegan has actually turned laps at CalSpeed before to stay sharp in between off road events, so it is only Creed that is new to the Fontana, CA facility. These guys could be a dark horse for the podium, if not more…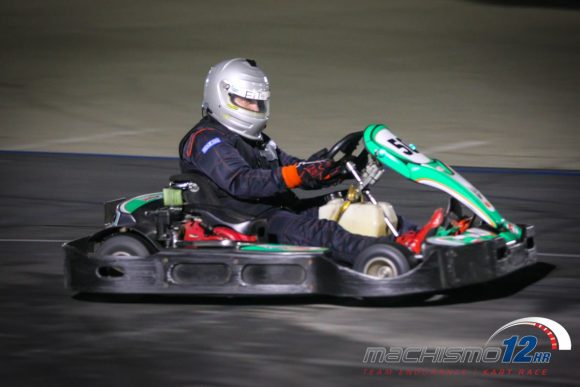 Super Sport Class Entry List and Rosters:
Wu Tang Gang
Sheng Wu, Don Diego Veloria, Tyler Rousseau, Diego Morales
The Glorious New Day
Sean Fite, Jose da Silva, Nick Marascio
Andlogical Logistics Racing
Darren Mercer, Cameron Jocelyn, KC Cook
Miramar/Torco Racing Oils
Corey Barnes, Helmut Kohler, Eric Long, Maverick McMahon
T4 Pink
Ryan Curtin, Tony Severson, TJ Blackledge
Team Squadra 303
Michael Wojdat, Lucas Dziemidok, Wojtek Mader
T4 Red
Taylor Hays, Adam Nagao
Formula Corsa
Calvin Ku, Simon Wong, Jin Gallegos
Red Bull Racing
Patrick Long, Mitchell DeJong, Mia Chapman, Seth Quintero
T4 Gray
Chris Carter, Luis Calderon
T4 Black
Chris Huerta, Matt Hart
Team Racers For Christ SS
Hailie Deegan, Ronnie Anderson, Cole Keatts, Myan Spaccarelli, Sheldon Creed
Sarthe Republic Racing
Ryan Oleksy, Sulaiman Saheel, Abdul Rahman Hahad Al Thani
Sport (S2)-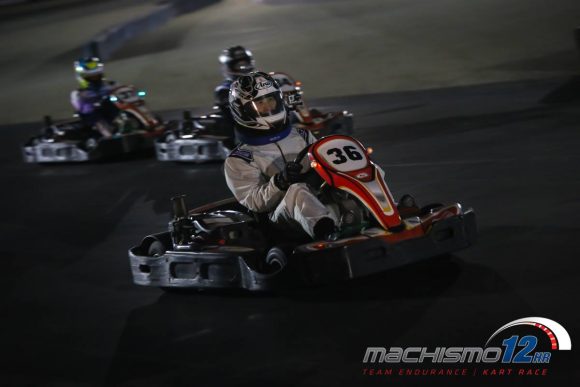 When the sport kart category split in 2014, the Super Sport Class went more of the 'Pro' route with a more open set of rules and less restrictions. The Sport Class at that point became the 'Gentleman's' or 'Amateur' category if you will, with restrictions to who could run, as well as a rule package that made things a little more straight-forward for teams to manage. Teams are required to have at least four drivers, and those drivers cannot be of a professional racing background or current upper level sport karting resumes. The class can be picked out on course via its orange marker lights, as well as orange marking tape affixed to both the front and rear bumpers of the kart, while the [S2] moniker precedes each team name in scoring. Since the inception of endurance racing in the Machismo, mandatory 'stints' have been required, and in 2014 this class became the only one to keep that rule package. Essentially, each team needs to make 35 driver changes or 'double stints' where they get out of the kart, and jump back in before continuing on down pit lane. Further, it shares the team average weight rule with the Pro Class, and with it the restrictions on drive time; except there are both minimum required allotments as well as maximum amounts each driver can run. And like the other classes, 2-2.5 hours of fuel is the number these teams will be looking at per run, except that unlike the other two classes, the Sport Class will start the event with a full load of fuel (P1 and S1 start with fuel remaining after Friday's qualifying session).
The S2 class typically hosts people from the local Sprint Series, B-Main or lower Super Series drivers, as well as those that actually do not frequent CalSpeed at all, with some making the Machismo their one big karting race of the year. This year, 13 teams have entered into the category, ranging from front runners in the CalSpeed Sprint Series, to people brand new to the venue, all looking to tackle the 12-hour challenge. Below are a few teams that jump out as possible contenders for the podium this weekend…
Reigning champs return with updated roster, T4 Purple…
T4 Autosport has a knack for putting together solid Sport Class teams, scoring 2nd place three years in a row until bringing it home in convincing fashion last year. The core of that winning team has stayed intact, as Caden Thure, Tom Zevin and Paul Ciralli all return this year, joined by Cameron Rose and Caden's father Scott. This will certainly be Caden's last go in the class -and possibly Zevin's as well- having improved immensely since the driver values governing class entry were made. Caden finished off the Sprint season with a pair of wins and a third overall, while Zevin made his first A-Main and finished the year 2nd in Grand Masters in the Super Series. This event is Paul Ciralli's once a year run in karts, known as possible the fastest 'big guy' at Machismo, having won it three different times over the past 9 years. Rose will be challenging his teammate for the mantle of quickest big man on campus, the Michigan college student flying in for driving duties this weekend. It's another solid entry for T4, and certainly the ones to beat as the returning champs.
Last year podium finishers looking to move up a couple steps, Red Mist Activated…
A team that has shown solid pace for the last couple of years, their third iteration will see a shake up in the team lineup, however both Michael Chen and Frank Hsu return for the 3rd year together. Completing their 2017 lineup are Michael Floerchinger and Moises Lizama, and as a team they have all put in more practice leading up to this weekend; and that practice has looked good. They entire group look to have gelled really well, working with their S1 sister team Wu Tang Gang that has former RMA drivers Don Diego Veloria and Sheng Wu on it. Last year the pace was evident with a second in qualifying, but little hiccups throughout kept them from challenging for the win, settling for a third place finish. This year the team looks very solid, and it looks like the addition of Floerchinger and Lizama has worked out well, especially considering neither have ran much in 2017. They were close in 2016, and for sure will be aiming for the top step at the end of Saturday's affair…
Naturally Smooth – Often Tasteless, Hold My Beer Racing…
Capturing what karting and especially what sport karting is all about, the Hold My Beer Racing team enters in with a big dose of fun, while not letting go of their desire to win. With team shirts that read 'Naturally Smooth, Often Tasteless", followed by "Bold Since Always" this is a team that will have no shortage of a good time off track. They can't be counted out off track however, as their lineup of drivers is still a stout one in the category; Led by Matt Steele, Chris Millar, and Jochen Repolust at its core, it is made even stronger by two of the top new sport karting talents from 2017. Randy McKee and Diego Alvarado made a lot of noise this year in the CalSpeed Sprint Series, each winning a race while regularly running up front; the former even battled for the Sportsman division win in the Super Series this season. A podium is certainly in the cards for this team, with the shot at the win coming from no mistakes a solid pace from the core three.
Sprint Series regulars make their Machismo debut, Full Throttle Racing…
Made up entirely of Sprint Series regulars, many of these guys have raced with each other starting at local indoor tracks before graduating outdoors to CalSpeed. The entire group improved a lot over the past season, with some even running in the IronMan Series to get some pit stop experience in. This weekend will be the debut for each Full Throttle Racing team driver, a group led by Ivan Martinez at its foundation, strengthened with Nathaniel Small, Spencer Russell, Sam Hunt, Jacob Abrams and Owen Lerman. With six drivers on the team fatigue should not be an issue, the group being able to concentrate on staying mistake free while going as fast as possible. Of the group Sam Hunt has shown the most speed, having been at the sharp end on more than one occasion this year, while Spencer Russell has put in more than one impressive drive working through traffic to raise eyebrows. It's a solid group of guys, and it will be interesting to see what their first run at the 12-hour classic will bring…
Old age and treachery coupled with youth and exuberance, Sofa Racing…
Aside from the RMA team, Sofa Racing is probably the next with the most practice time coming into this weekend, with most of the group coming out a few times to help gel and come up to speed as a team. Scott Milne brings his experience over from the IronMan Series in terms of strategy, and add to that the pace he showed in his first few starts in the Sprint Series this year and he'll be one to watch. This year's Grand Masters Champion Tony Wika and his son Sean look to be equal in pace, even though the latter has very little time at the Fontana, CA facility. This bodes well for a team that is rounded out by regular Grand Masters front runner Joe Sabella, the group of four entering as a possible 'under the radar' team for the podium, if not more. The pace has looked good in practice, it will just be another case of not making mistakes and getting the strategy right for this rookie Machismo entry.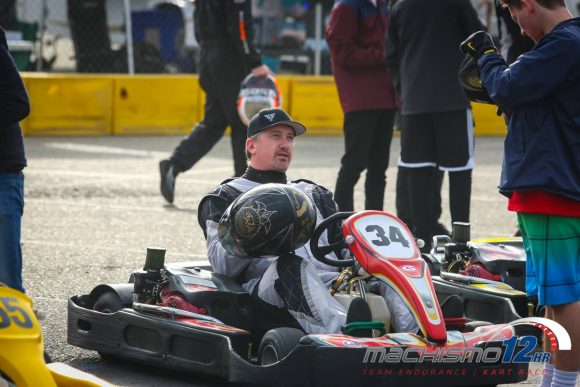 Sport Class Entry List and Rosters:
Red Mist Activated
Michael Chen, Frank Hsu, Michael Floerchinger, Moises Lizama
Full Throttle Racing
Ivan Martinez, Nathanial Small, Sam Hunt, Spencer Russell, Jacob Abrams, Owen Lerman
Enterprising Spider Racing
Mark Sternberg, John Rice, Bryan Schubert, Ryan Pond
Hold My Beer Racing
Chris Millar, Matt Steele, Diego Alvarado, Randy McKee, Jochen Repolust
Baguette Racing
Maximillian Bui, Prescott Cambell, Jason Zide, Nicolas Bel
Equipo Cuatro Colegas
Ryan Kuhl, Josef Busch, Steve Makuch, Ethan West
Equipo Seis Colegas
David Gamez, Jake Jeffreys, Kris Neuharth, Kyler Stole, Jake Swartz, Eric Walsh
Heel-Toe Zeros
Trent Hutchison, Cameron Hutchison, Austin Barnes, Brandon Walsh, Brandon Valdez
T4 Purple
Caden Thure, Scott Thure, Tom Zevin, Paul Ciralli, Cameron Rose
Sofa Racing
Joe Sabella, Scott Milne, Tony Wika, Sean Wika
Make America Race Again
James Lieser, Brad Harvey, Tyler Hicks, Jon Simms
Tyrone's Terriers
Efrain Olivares, Kyle Blasman, Kurt Blasman, Ryan Long, Michael Long
Team Racers For Christ Sport
Steve Hansen, Ricky Gutierrez Jr., Darren Hardesty, Christopher Polvoorde