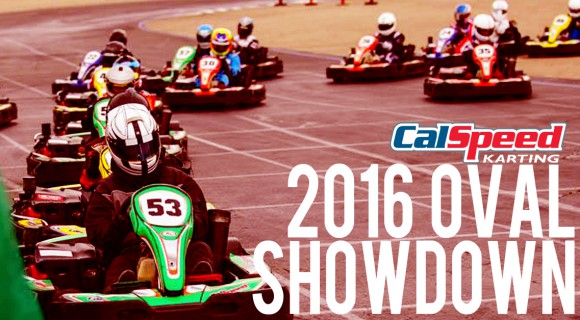 Since I was a kid, oval racing and the Memorial Day weekend have always seemed like a natural fit; from watching the Coke 600 or the Indy 500 on TV, from heading to the local short track and watching my Dad race in the annual 300 lap enduro held there. Racing is what you do on this weekend. That's the way I feel about the Oval Showdown happening on this particular weekend as well; a special one-off event that is different than everything else we do here at CalSpeed. But I'll be honest, I have so much damn fun testing for this event that I kinda wish we could do it more often! It is a different animal with a completely different approach than road racing, and it is so much more than 'just turning left'. It takes a lot of patience to get it right, and the amount of chess that can be played that carries from one lap to the next its just a blast. In the following preview I'll take a look at the virtually unchanged format from last year, the track itself, as well as chat with last year's winner Chris Huerta, and even my fellow kart testers about their thoughts on the CalSpeed Oval. Enjoy!
The Format…
For the 2016 CalSpeed Oval Showdown, very little is different from a year ago, with rule and track tweaks done last season working well enough to stay the course for this year's event. Every driver will still get a practice, 4 lap-qualy session (to emulate Indy), a pair of heat races, and a main, with the winner of each main moving on. Just like last year, the 4-lap qualifying run will determine each drivers starting position and run group for the first heat, with the best average over the four laps determining overall pole position. The second of the two heat races will see the top ten drivers inverted in each group from their finishing order in the first heat. Once the Mains start pit stops will be required, with the C and B Main needing to do 1 stop, while the A-Main is now required to do a pair of pit stops. Rulebook link: 2016 Oval Rulebook.
The Track…
CalSpeed's 'Darlingtonsville' is certainly unique in its shape and the approach needed by the drivers, as not only are the two ends of the track different radius, but the entry to 3-4 is on a different surface. The straights were lengthened after the 2014 event by moving the inside wall in 3-4, resulting in higher speeds, more braking needed, and even more passing ability. Further, line choice through the corner can now be utilized to create runs and hold off charges from other drivers, as the longer straights allow the extra momentum to manifest into passes. Indeed, in testing we saw the outside line really develop, and this will surely be the case on race day as well…
Speaking of the test, after it was all said and done, I chatted with my fellow testers a bit to get their .02 on the track, the event, and really anything CalSpeed Oval. Here's what Derek Esquibel, KC Cook, and Darren Mercer had to say: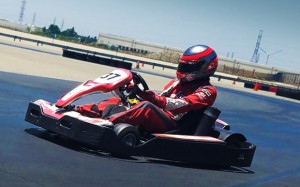 Derek Esquibel: The oval is probably the most fun I've had when doing sport karting at CalSpeed. One thing that I found really unique when racing the oval was executing your pass. The process of building your momentum over the course of a few laps to make sure you can complete it on the first try; it's going to test many driver's patience on when to overtake. As we all know, racing is about being smooth and consistent. It is very much emphasized on the CalSpeed Oval. I think braking is going to be a hurdle for some drivers. Making sure to not drive the kart so hard into the corners but trying to use more roll speed. Slower is definitely faster when it comes to the CalSpeed Oval.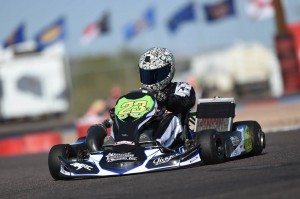 KC Cook: Aside from the oval, jumping back into a Sport Kart from a Shifter is a task in itself. Instead of braking till the last possible second, using the gearbox to slow you down, rotate the kart, and charge out of the corner grabbing gears, the sport kart requires maximum exit speed which means driving the kart very smoothly to carry momentum on exit. Everything from driving style to racing against my competitors, it is different in every aspect. When I made the transition from Sport Karts to Competition Karts, it was a huge learning curve as well. Especially the racing. It is fierce, and you almost have to expect contact in every corner from another racer for a pass attempt. But, back to sport karting, it is the opposite. And especially on the oval, the last thing you want to do is make contact mid-corner, or upon entry with someone, it will only slow the lane down.
As far as tips and tricks, here are some of the keys that will unlock success and get you around this 21 second paperclip oval. Leaving a gap on entry, and maximizing your exit speed to push the lane ahead. Disrupting the driver in front of you doesn't do anyone any good. Also, understanding the characteristics of each corner. Turns 1 and 2 is the slurry paved "Long Beach" corner which everyone has a good idea of how that drives, but on the contrary, Turns 3 and 4 isn't slurry paved, which is personally my favorite. Reason being, it reminds me of the shifter: turn in a bit early and late brake; come off the corner early and its quicker to the start finish line. The grip is there. Keep in mind, if you are the attacking kart, this gem should be in everyone's back pocket come last lap, last corner scenario. But if you're not the attacking kart, well, you know what to do.


Darren Mercer: I'm kinda bummed I'm not racing in the Oval Showdown this year as I would like some redemption from my black flag for exiting pit lane early, which ended my shot at the main event win last year. There's definitely a big difference out here at CalSpeed vs my pony stock car at the Orange Show Speedway. The karts are really close in speed and handling, and you need to hit your marks to be fast. Keeping momentum is key around here, same as the #22 New Harvest Ventures Racing Pony Stock car. If your sliding around your not going fast. I think you need to work with others on the track too, without the no bump drafting rule you can help each other to move forward real fast. Next is your mental game, there's a lot going on when you're on track. One little mistaken and your shot at the win is over. Just like how I made the mistake exiting pit lane early. You have to put a full day together here and if your mental game is not there, your going to have a hard time getting on that top step of the podium at the end of the day. I can't wait to get back in the seat and have some fun next year!
2015 Winner: Chris Huerta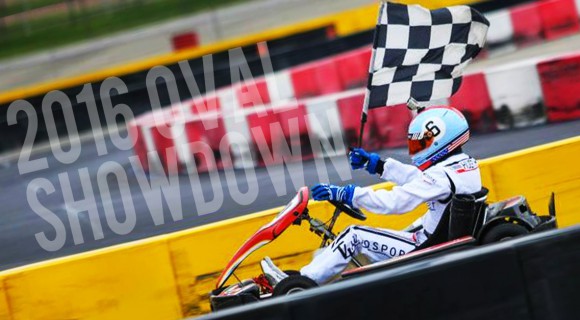 Mike Smith: Chris, if you can, explain what it meant to win the CalSpeed Oval Showdown last year…
Chris Huerta: To me, it meant a lot of validation for past runs and close calls. I've always been the Barricello of the team so taking one for myself felt good and the uniqueness of the event made it even more special. It took me a long time to really soak it in, about as long as it took for me to wash my suit. It mostly means I have some comeback material for whenever the guys make fun of me for my height or terrible driving.
MS: From your perspective, what was that day like? Can you describe the events that led up to you in victory lane?
CH: I went into the day with a lot of confidence because in the Inaugural Oval Race I had a lot of speed but got wrecked on lap one out of 3rd place. Last year I was fastest in practice, qualified 3rd overall and had an average first heat. The biggest moment of the day was in Heat Two when I found some luck by passing my way from sixth to second before my tire went flat on the next straightaway. That gave me a shot in the A-Main and I ran a near perfect race with a wicked pit stop to get the lead. It didn't hurt that my top teammates had issues to where I just ran the race for myself. Once I knew I had the lead I wasn't going to let it go, and luckily I caught lappers to secure the last few corners and the checkered flag.
MS: Would you consider yourself an oval guy? Do you follow NASCAR or any other oval racing?
CH: I watch all forms of racing but I started watching NASCAR when I was a young kid. I wouldn't say I consider myself an oval guy but something about it certainly fits me. If I keep finding success then maybe I'll consider myself the Mike Wallace of the Oval Showdown.
MS: Lacking any proper oval experience, how did you prepare for the event, and did you expect to wind up on the top step?
CH: Honestly all I did is watch videos and focus on being smooth. It's not that different from a normal Super Series or IronMan except I made it a point to run practice. On the oval comfort is huge because of the amount of laps you run and the thin margin for error. I can say with all honesty I did expect to bring home some hardware until about the last lap of Heat One when Adam (Nagao) passed me 4th followed by my issues in Heat 2. Hell I didn't even try to tell my Dad to stay at the track after Heat Two because we were so convinced nothing was going to happen. Of course I've never let him live that down. It wasn't until after the pit stop and Andrew (Brown) gave me the #1 finger that I knew I was going to take it.
MS: From your experience, what will be some of the key aspects to doing well on Saturday?
CH: Well the first thing is getting comfortable and having pace in practice because you need that in order to run well the rest of the day. Trying to find something in qualifying and the heat will put you behind the eight ball. The second thing is find a little luck in your second heat with the reverse grid by avoiding any incidents in the first few laps or once you are up front. And finally the third thing is avoiding any issues in pit road in your Mains because that's where time is really lost. If you can survive that things will be looking good for you.
MS: For regulars at CalSpeed, how does the Oval Showdown differ in its approach then other types of events/tracks?
CH: I'm sure a lot of guys look at the oval as "too easy" or basic when the truth is that the margin for error is even smaller than normal. Unlike most tracks where you have multiple times per lap to gain and lose time, if you make a mistake on exit on the Oval you are likely going to be passed headed into the next corner and even freight trained. Patient drivers tend to do well because they can just sit and run lap after lap. That's not to say there isn't racing, in fact the Heat races are actually better than the A Main because in the long A Main strategy and your pit stops can overcome a slight lack of pace. Watching guys like Jon (Kimbrell), Aaron (Downs), and Taylor (Hays) carve through the reverse grid with ease shows their true talents.
MS: Is it more than "just turning left"? And why would a road racer enjoy coming out for the annual 'left turn only event'?
CH: The day is much more than "just turning left" and more like a traditional sprint race than even Super Series. The aggressive driving in the Heats and strategy of the Mains makes the day the perfect combination of a Super Series and IronMan race so that a complete driver is rewarded. Plus there are no points on the line and the need for perfection to find that last tenth or two makes this one of the most difficult races to win. And I'm not saying that because I won, I'm sure if we ran a Super Series or IronMan on the track it would be as entertaining and challenging as the Classico GP.