The Machismo 12 Hour endurance kart race will see its 8th annual event take place this Saturday, carrying on a traditional that started with a group of enthusiasts getting together for the 'Machismo Cup'. Since those early years at the now-defunct X-Plex kart track outside of Las Vegas, the event has traveled to temporary venues built for marquee events in hotel parking lots along the Vegas strip; then to the 'Bullring' at Las Vegas Motor Speedway; and finally to the home of arrive and drive karting in So-Cal: CalSpeed Karting. Now in its third year at the Fontana, Ca facility, this endurance karting classic attracts drivers from all walks of life and all different skill levels; filling each of the three classes on offer: Sport, Super Sport, and Pro. While each have their own paths to take, and hurdles to oevrcome, they all share in the same goal: Victory after 12 hours.
One of the things that makes the Machismo special is its day into night transition, with the race starting at about 10am, and then finishing its final five or so hours under the lights. In fact, some have even described it as two different races; an almost reset button being pushed when the sun goes down and the lights come on. The once a year contest sees drivers take to a challenging 19 turn layout with several corners unique to the Machismo configuration. A busy track; there really is very little time to rest when on clean laps, and then it gets even busier when you throw traffic into the mix. This test of skills is made even more challenging by its physical and mental requirements; the need to stay mistake free both on track and in pit lane, may only be matched by putting together the best strategy over the once around the clock contest.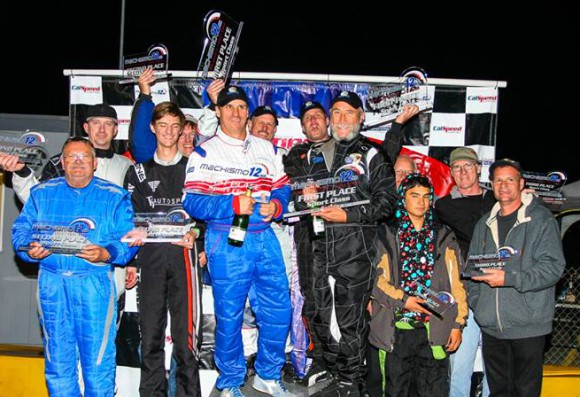 As it was in 2014, the Machismo returns with three classes on offer, with the Sport Class (S2) seeing its defending winners returning, albeit with a slightly different look. Given the experience cap that is enforced in this, the "Gentleman's" category at the Machismo, reigning champs All-In racing have three of their four drivers (Duane Lawson, Kelly Bastian, Chris Lorentzon) still in house, with endurance racing veteran John Perry filling the shows of the now-promoted Mark Connell. That said, Team Captain Lawson is questionable after a less than stellar debut in a PRD kart that saw him on his lid. The only other podium runner returning from last year is the T4 Autosport backed Greg Reinhardt, teaming up with Andrew Brown, Caden Thure, Chris Carter, and Luis Calderon. Also on the T4 Autosport podium squad from 2014 is Tom Zevin, who will be trading helmet for headset this time around as he does strategy on the sidelines. Aside from these two teams, the rest of the Sport Class sees a few familiar faces here and there, but no squads making their return, so it is anyone's guess how this podium will look at the end of 12 hours…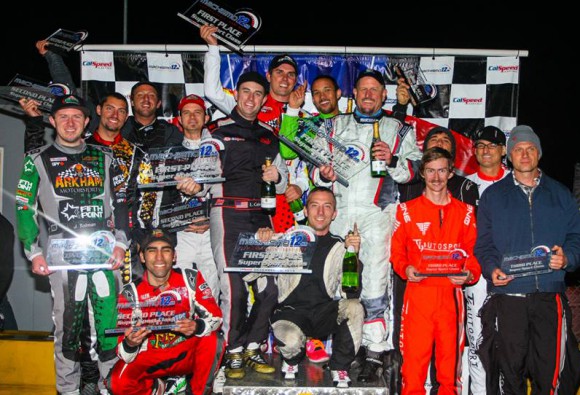 Super Sport not only has the 2014 winning team returning, Scuderia Arkham are fully intact; keeping the exact same group of divers together that got it done one year ago: Logan Calvin, Mark Connell, Jordan Wallace, Michael Wojdat, and Andrew Lemons. As the returning champs, they are the obvious favorite heading into the event, and will have the target and spotlight firmly on them from the drop of the green flag. It will be no easy task to become back-to-back Machimso champs however, as the Super Sport category is arguably the toughest of the three here in 2015, with multiple teams looking to have a shot at the top step come 10pm. That list of challengers can start with their sister team, Arkham 3:16, whose squad of four sees two return from the 2nd place squad from one year ago in Justin Tolman and Bruce Allen. They're chances at moving up one step are bolstered by Andrew Wood of Sport Kart Grands fame, and Patrick Britain, former CalSpeed IronMan champion. Continuing the trend of returning talent is the T4 Autosport #2 team of Taylor Hays and Adam Nagao, the pair looking to build off their 3rd place finish as a two-man squad. All three of these teams look good on paper, and should be fighting for the top spot all race long.
This is just three of the eleven teams in the Super Sport (S1) category, the returning podium making it a daunting task for any new squad to find themselves holding hardware at the end of 12 hours. That said, there are a couple teams that will most likely be strong right out of the gate, and that is the T4/Random Manufacturing (Chris Huerta, Darren Mercer, Aaron Scott) and RNA Senna (Sean Fite, Jon Kimbrell, Aaron Downs, Diego Morales, Jose da Silva, Ariel Rubio) teams. Both have some well-known CalSpeed, and national talent on their squads, and are sure to be immediate threats to shake up the status quo from last year.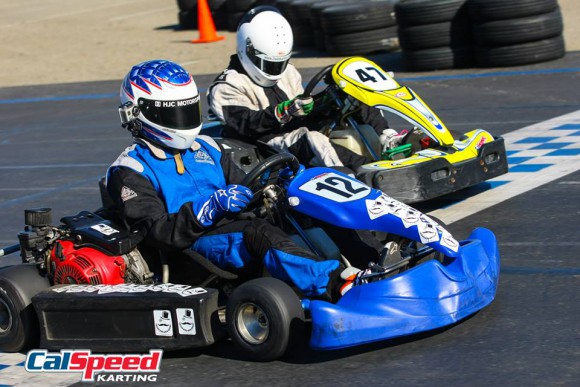 In the Pro Class (P1) we see a complete vacancy of returning podium talent, meaning we will see some new faces fight for the class, and Overall win in this year's Machismo. And while the entries are lower in this category than last year, the talent is no less deep, as several very experienced drivers have teamed up to form some potent alliances. One challenge that every team will have to face regardless of experience, will be their unfamiliarity with the Startos kart; CalSpeed's 'club kart' is completely different to that of the regularly used Sodi Sport Kart, and with the requirement of needing to run on two different sets of tires (primes, and softer options) during the race, this year's Pro class is anything but predictable.
Arguably at the top of the list of contenders is the 'Arkham Pro' squad of Wes Dent, Mark Connell, Jerott King, and Charles Eichlin. Both Dent and King have experience in a type of Stratos at their local indoor track, Connell one this event in both S1 and S2 last year, while Eichlin was 2nd in the S2 category. Next is the Cavalos de Fuerza team, which translated from Spanish is 'Horsepower'. This team of Jose da Silva, Andres Preito, Bill Kreig, Diego Morales, and Sergio Bravo has no shortage of pace, especially in the Stratos from past Machismo races. While both of these teams perhaps have the most experience in the karts to their names, the overall podium is anything but a certainty, as there will be hefty challenges coming from the other teams in the category.
The 2015 Machismo 12 Hour endurance kart race event will begin tomorrow with the official 'Under the Lights' 1 hour practice/qualifying session at 7pm, setting the grid of 26 for the  8th annual installment. The once around the clock contest begins Saturday morning at 10am PST, with periodic event coverage taking place on our Facebook page until the checkered flies at 10pm.
Bring on Machismo!
Facebook Event Coverage: https://www.facebook.com/machismo12hr/?fref=ts
Facebook Event Page: https://www.facebook.com/events/1697369600491190/