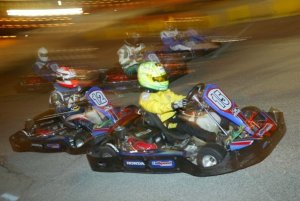 Rob Niles and Brad Packard would agree early on in their discussions that for the event to reach it's potential, the selected venue would be of paramount importance to its success. Enter the 12th annual SKUSA SuperNationals and its temporary circuit at the Rio Hotel and Casino scheduled for late fall of that year. The 'SuperNats' had established itself not only as the biggest sprint karting event in North America but one of the largest in the world, drawing international factory teams and drivers to compete. It seemed only logical that the Machismo, with aspirations of becoming the biggest endurance event in the country, be run in conjunction with the SKUSA juggernaut.
The inaugural edition would draw 12 teams from around the country to compete, boasting a roster chalk full of talent from around the motorsports world. Unlike the popular "two-class" format now common to the Machismo, 2008 would feature a single class of competition on track utilizing Karting Venture's fleet of modified 270cc Sodi karts. That year drew some of the best in the business as Gatorz Eyewear President Kerry Lynch would enlist the services of Sports Car Champion Joey Hand and IndyCar pilot Alex Tagliani, while karting veteran Jim Russell Jr. would enter just a two-man effort in his quest for victory. 2008 also saw Rob Howden and Dave Cole put down the microphones, and put on the driving suits as they would take to the track representing 'Team Ekartingnews.com' in an effort that would see them bested by a minuscule 13 laps for an 11th place finish.
The 2008 contest would conclude in legendary fashion as IndyCar star Alex Tagliani held the lead with just 10 minutes remaining. Running low on fuel, Tagliani would decide to go into conservation mode in hopes of avoiding a lengthy trip down pit lane. It would all be for naught as Tagliani ran the tank dry, resulting in the Canadian feverishly pushing his kart back to pit lane as the sun rose on over the strip. The beneficiary of that crucial misstep would be the 'Sonoma Valley Racing' squad comprised Ray Zanotto, Renn Ortenburger, and former karting champion Robby Mott. The trio would sail to a convincing victory that first year in truly amazing fashion, setting the bar high for exciting finishes in future years.